"Like Winning the Championship" – Kyle Busch Is Thrilled as He Keeps His NASCAR Streak Going With Texas Win
Published 10/28/2020, 9:24 PM EDT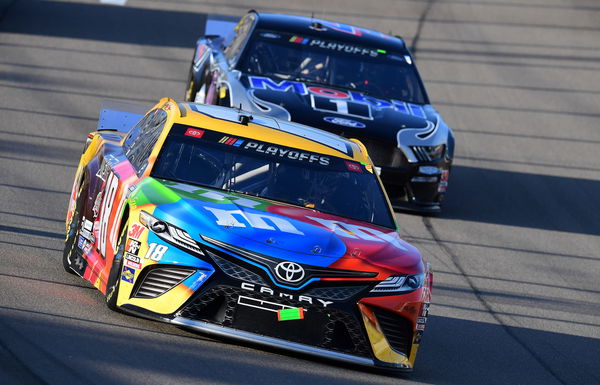 ---
---
Kyle Busch finally got the monkey off his back. The younger Busch brother held his nerve in a tight final run and saw off a challenge from Martin Truex Jr. to win the NASCAR Cup Series race at Texas Motor Speedway.
ADVERTISEMENT
Article continues below this ad
Busch earned his first win of the season and continued his streak of at least one win in 16 consecutive seasons.
The win took such a long time to come and demanded so much from Busch on the day, that he compared it to winning the championship. Busch is an experienced driver who knows what it means and what it takes to get to Victory Lane better than many others. However, Wednesday's finish was one of his nerviest.
ADVERTISEMENT
Article continues below this ad
"I was so nervous. I was nervous a little bit the whole last run. I've been in this position so many times. The last three laps though, that's like winning the championship. That's how nervous it was. I can't believe it," Busch said on the track, after the win.
He also said it had been such a long time since he won, that he kind of forgot his trademark celebration, of bowing to the crowd with the checkered flag in hand.
Kyle Busch shows his skills in a nervy finish
Busch needed to do all he could to stretch his car to the best of his abilities in the final few laps. His car was running out of fuel, and he held on, just enough to get the win. His car ran out of fuel with a burnout later and had to be helped to Victory Lane.
"It ran out, coming right in here to do a burnout. So I had enough to do a little bit of a burnout," Busch said further.
Busch was running a zombie-themed paint scheme for the race. He even pointed out to a few zombies portrayed on his helmet and joked how the rain delay turned everyone at the track into zombies.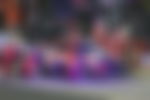 "Had to do a zombie remake here. This is what we've all looked like around here for the last three days right? Everybody just zombied into their phone. I wasn't planning on that, but it kinda worked with this weekend, but more so in the times," Busch added.
ADVERTISEMENT
Article continues below this ad
"Ready to fight next year"
He then vowed to come back next year and fight for the title again. "We're ready to fight next year, we'll be back," Busch affirmed.
This win also ties him with Jimmie Johnson, Ricky Rudd, and Rusty Wallace for third on the list of most consecutive seasons with a win. He now chases the record of 18, set by Richard Petty.
ADVERTISEMENT
Article continues below this ad
WATCH – Bubba Wallace and Denny Hamlin Involved in Massive Wreck Moments After NASCAR Race at Texas Restarts