The Consumers Energy 400 that took place at the Michigan International Speedway on Sunday night, almost went down in history. The race almost broke the record for being the shortest full-length NASCAR race.
Currently, the 2017 race at Watkins Glen holds the record at 2 hours, 7 minutes and 3 seconds. This weekend's race lasted around 2 hours, 9 minutes, 35 seconds.
Apparently, this race was compressed to 312 miles because the Cup Series teams ran twice. Under normal circumstances, races in Michigan are typically 400 miles.
The official record for the shortest race belongs to the June 2018 race at Michigan that was hindered by unrelenting showers. As it turned out, that race lasted 2 hours, 15 seconds.
ALSO READ- Kevin Harvick Beats Denny Hamlin by Fraction of a Second to Complete Weekend Sweep at Michigan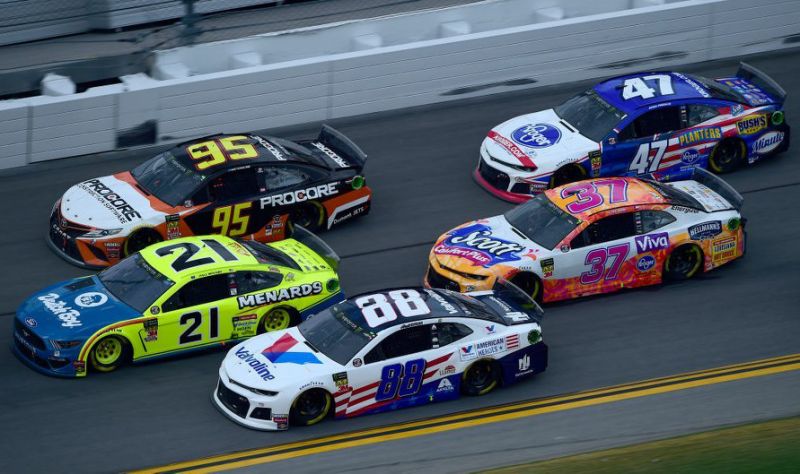 Seemingly these short races are set to become a recurring theme. Considering how 9 of the 22 Cup races ended within the course of 3 hours.
When the season resumed in May following the COVID-19 break, six other races fell under that category because they were trimmed.
Are short NASCAR races a good trend?
The subject of shorter races has cropped up several times over the years, and many debates have raged over it. After Michigan, there will be yet another doubleheader weekend at Dover where both races will be shortened from 400 miles to 311 miles.
"The shorter races seems like it's been a good thing," Crew Chief Rodney Childers admitted. "Keeps things exciting.  Everybody is racing harder the whole time, shorter stages.
"Not much for people riding around or waiting till the end, any of that kind of thing."
He praised the idea of doubleheaders since it helps save a lot of money that would have gone in traveling. In other words, NASCAR teams will have more money to spend on car development.
This will help them to put on a good show for both days. These shorter races will also allow for plenty of opportunities to play around with strategy.