"More Than I Dreamed" – Brad Keselowski on Tying Dale Earnhardt Jr, Jeff Gordon and Chasing Dale Earnhardt's NASCAR Talladega Record
Published 04/26/2021, 9:50 AM EDT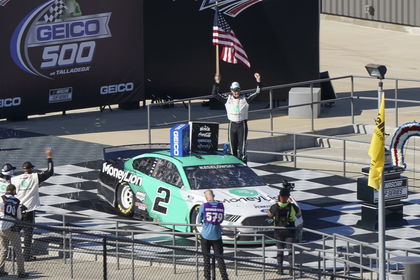 ---
---
Brad Keselowski led just one lap, which turned out to be the most important one, on Sunday at Talladega Superspeedway for a stunning sixth win at the track. By doing so, he joined two NASCAR legends in Jeff Gordon and Dale Earnhardt Jr. for second-most career Cup wins at the iconic track.
ADVERTISEMENT
Article continues below this ad
Keselowski now has the chance to go ahead of Jeff and Earnhardt Jr. and chase the all-time Talladega record set by none other than Dale Earnhardt Sr.
The Team Penske star said that tying the likes of Gordon and Dale Jr. in a major NASCAR record is beyond his imagination.
ADVERTISEMENT
Article continues below this ad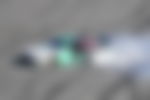 "It's more than I ever dreamed, I can tell you that."
Brad Keselowski talks about his chances of breaking the all-time Talladega record
At the same time, he is the only driver who has a genuine chance of actually catching up to Earnhardt's record of 10 Talladega wins. While he admitted that the record is still quite far away, he can get it. For now, the 2012 NASCAR Cup champion is just proud to be even mentioned in the same breath as Earnhardt.
"I would pause and say Dale's record is so far out there. Yeah, I have a shot at it, but it's a distant shot. I think you got to get seven before you can even think about 10. Still pretty cool to be on the same list with him on anything. That's for sure, even if it's second," Keselowski added.
He went on to say that he continues to be as motivated as ever to navigate through all the challenges he faces time and again. Facing new challenges season after season is another aspect of NASCAR racing and Keselowski cherishes every bit of success he gets.
"I never thought I'd even have that chance. It's tremendous to me. I grew up loving the sport, still love the sport," the 37-year-old said further. That makes having his name on an elite list all the more sweet for the Penske No. 2 car driver.
"A pretty big deal" – Keselowski
"It's a hard sport. Any success you have means the world. So I think to have my name on any list that has Dale Earnhardt, Jeff Gordon, Dale Earnhardt Jr. at Talladega, that's a pretty big deal. I'm super happy and super proud to be there with them," Keselowski expressed.
ADVERTISEMENT
Article continues below this ad
Winning at Talladega is never easy. But winning six races there already shows Keselowski knows how to navigate the difficulties at the track, and there is no reason why he cannot break the record.
For now, Keselowski will focus on using this hard-earned momentum and earn more wins on his way to a second Cup title.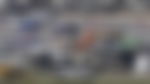 ADVERTISEMENT
Article continues below this ad