NASCAR: ARCA Series Driver Derrick Lancaster Rushed to Hospital With Severe Injuries in Talladega Crash
Published 04/25/2021, 8:00 AM EDT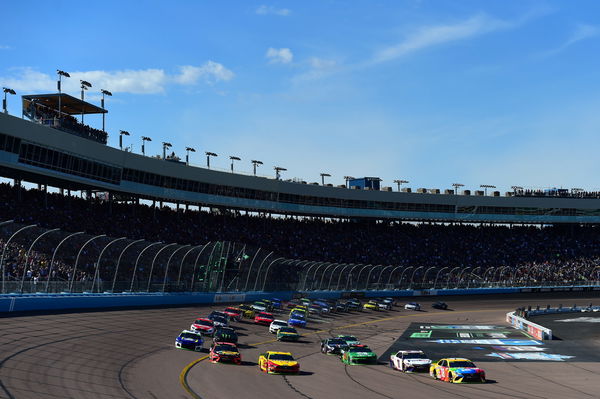 NASCAR ARCA Series driver Derrick Lancaster was involved in a massive crash on Saturday at Talladega during the ARCA Menards Series race. Things did not look good right away as Lancaster's car caught fire. Later, through a post on social media, his wife revealed that Lancaster was on the ventilator.
With five laps to go in the race, Lancaster crashed into the wall, after which his car went up in flames almost entirely. The driver stopped and was rescued from the car as the medical team arrived at his aid.
What is the severity of Lancaster's injury?
ADVERTISEMENT
Article continues below this ad
Derrick's wife, Elizabeth Nunley Lancaster, posted on Facebook that her husband suffered 2nd and 3rd degree burns on his body. He was on the ventilator as the doctors examined potential lung damage. She also said that he was to be flown to a burn unit in Alabama.
"Right now he is on a ventilator until they access the lung damage. He will be on it for at least 48 hours. 2nd and 3rd degree burns to both arms, neck, and face.
"They will debread his arms and take him to trauma unit where I'll be able to lay eyes on him and touch him," said the post from Elizabeth Lancaster.
What else happened in the NASCAR ARCA Menards Series race?
Earlier in the race, Ty Gibbs was also involved in a crash that ended his day. After an incredible start to his Xfinity career, where he has already won a race, Gibbs now has a lot of attention on him in every race.
ADVERTISEMENT
Article continues below this ad
Corey Heim won Saturday's ARCA race at Talladega. Toni Breidinger, NASCAR's first Arab-American female star, finished in 12th place.
Meanwhile, 65-year-old Dave Mader III finished in second place. The driver won his first ARCA race in 1991 in Michigan, almost 30 years ago. Now, at 65, he recorded a runner-up finish at Talladega.
Nick Sanchez, Drew Dollar, and Bret Holmes completed the top-five standings in Saturday's ARCA race.
ADVERTISEMENT
Article continues below this ad
48-year-old Lancaster has been around in the ARCA Menards Series since 2014. He is yet to win a race and has two top-10 finishes. For now, the focus will be on his recovery and hopefully, Lancaster returns to the race track with a full recovery.