NASCAR Coca-Cola 600: On-track Incident Costs Chase Elliott the Win Second Time This Week
Published 05/25/2020, 11:16 AM EDT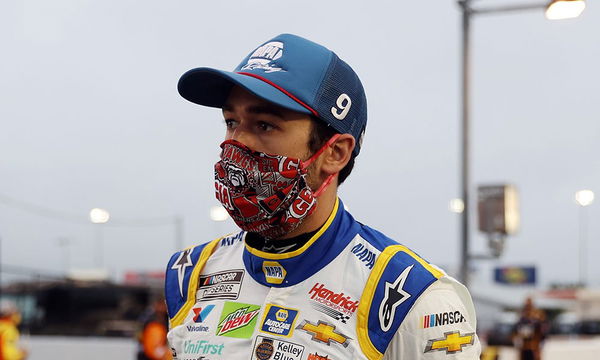 Chase Elliott lost his shot at victory for the second time this week in the Coca-Cola 600. Last Wednesday, Chase got in an incident with Kyle Busch which cost him the win.
ADVERTISEMENT
Article continues below this ad
This time, a pit choice took away Elliott's chances of winning the NASCAR Coca-Cola 600 at Charlotte Motor Speedway. The incident happened just four days after his chance to win at Darlington were annihilated when Kyle Busch's contact destroyed his car.
"This week has been pretty unfortunate," Elliott said after finishing second to champ Brad Keselowski. Elliott crossed the finish line third but Jimmie Johnson's vehicle was excluded in the wake of a bombing post-race investigation, moving Elliott up a spot.
ADVERTISEMENT
Article continues below this ad
Just around 12 PM, a warning came out after William Byron's spun. Till that point, Elliott was leading the race but the alert sent the race into extra time. After that, the main decision for each team was to pit or keep running.
Joey Logano demonstrated a driver could remain out on more established tires Sunday night and hold the lead. He won Stage 3 by saving the lead for 19 laps after a restart in spite of having more seasoned tires than the vast majority of the field.
Elliott attempted to do something very similar at that point yet had a poor restart. He was third on the restart and completed the stage eighteenth.
ADVERTISEMENT
Article continues below this ad
Chase Elliott choosing to stay out cost him the win
Elliott and crew chief Alan Gustafson decided to stay out and keep the lead while many in the field likely would pit for tires, or pit and try to come through the field.
After the race Elliott said, "You just make the best decision you can based on the information you have. People behind you are going to do the exact opposite of what you do. That was the situation we were put in. Alan made a decision and we stuck with it and it didn't work out."
ADVERTISEMENT
Article continues below this ad
Gustafson called Elliott to pit road as eight cars stayed out. Elliott was the third car off pit road with four tires, putting him 11th on the restart.