NASCAR Community Goes Berserk After Massive Wreck at Daytona International Speedway
Published 08/29/2022, 5:11 AM EDT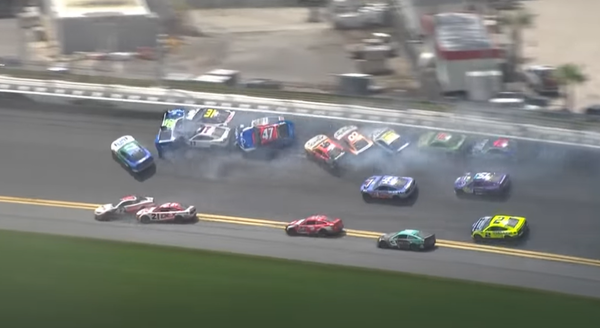 NASCAR is finally in Daytona for the second time this season. It is easily one of the most anticipated races of the season. As said, Daytona did live up to the expectations as there were a series of events. However, the Lap 138 crash in Cup Series is what made everybody go berserk. The fans reacted to the event on Twitter.
The Coke Zero Sugar 400 race started at the Daytona International Speedway with Kyle Larson on the pole, who overheat his engine during the first few laps. Soon after the start of the race, there were lots of crashes until the race was red flagged due to inclement weather.
ADVERTISEMENT
Article continues below this ad
Martin Truex Jr, one of the drivers who got affected by the crashes, has already predicted that "there will be lots of crashes." Truex Jr. got in contact with Ryan Blaney in Stage 1 and lost position.
The crash that enraged the NASCAR fans
Moving forward from the Truex Jr and Blaney shunt, the next big hit was in Lap 102. It was a multi-car melee as Martin Truex Jr., Ross Chastain, Tyler Reddick, Corey LaJoie, Bubba Wallace, William Byron, and Chris Buescher were involved after Chase Briscoe went off.
However, the most dangerous crash was the incident on Lap 138. As many as 12 cars got involved in the shunt against the wall of Daytona. The cars have moved against each other, some side by side, and started moving. This brought the yellow flag to the race immediately. Fans react to the incident:
Go back to the last lap running order. You caused this wreck.

— Merc (@Merc249) August 28, 2022
Race control messes up and you glorify it.

— Greg Royce (@gregroyce) August 28, 2022
The NASCAR fans alleged that the race continued ever after it started drizzling. Fans reacted to this incident on Twitter:
Reckless and irresponsible to send the field into a wet corner at 200mph. If someone had been seriously injured or died in this wreck someone from NASCAR would be going to jail.

— Captain toxic (@toxic_skipper) August 28, 2022
NASCAR should pay for every one of those cars. You employ officials in the corners to report rain/hazards and you let cars drive 200mph into a slick track. What a clown show

— Kyle (@Sharks244815) August 28, 2022
ADVERTISEMENT
Article continues below this ad
If the rain caused this it should revert back to the last loop. What a bad way to end a solid race

— sportsguy070 (@CjNascar6767) August 28, 2022
ADVERTISEMENT
Article continues below this ad
The race remained red flagged due to rain during the time of publishing this article. Austin Dillon, the driver of car no. 3, remains in the lead with just 21 laps to go.
WATCH THIS STORY: Names of 4 NASCAR Teams in the Kyle Busch Saga Reportedly Exposed & None of Them Is Hendrick Motorsports – Fans React