NASCAR Darlington Throwback: Kevin Harvick Goes After Kyle Busch on Pit-Road After Their Crash
Published 05/07/2021, 1:45 PM EDT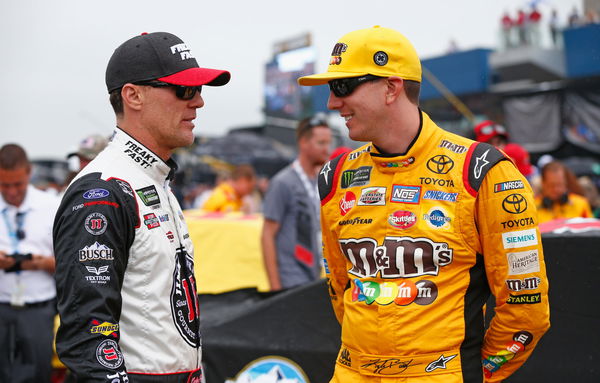 ---
---
Darlington is always one of the most eventful races of the NASCAR Cup Series season, be it the Spring race or the Southern 500. A decade ago, two of the biggest stars in the sport, Kevin Harvick and Kyle Busch, were involved in an altercation at Darlington during the Spring race.
ADVERTISEMENT
Article continues below this ad
An on-track tangle became a bigger deal after Harvick and Busch's pit-road confrontation. It almost turned into a fistfight between the two but Busch drove away as Harvick threw punches at him.
How did Kyle Busch and Kevin Harvick end up fighting?
ADVERTISEMENT
Article continues below this ad
It all started with five laps to go in the race when a three-wide incident involving Busch, Harvick, and Clint Bowyer eventually led to Harvick wrecking. At the end of the race, Busch was behind Harvick on pit road before an angry Harvick got out of his car and went after Busch.
While Busch drove away, he hit Harvick's car in the process, sending it into the inside wall on pit road. In the aftermath of the fight, NASCAR placed both drivers on probation for four weeks and fined them $25,000 each. The main reason behind the penalty was that Harvick's car could have easily hit the crew members who were walking on pit road, as it went into the wall.
Busch and Harvick both later recognized that these things happen in racing. However, Busch was apologetic about the incident on pit-road and the fact that it could have been dangerous.
Busch rues the incident in the heat of the moment
"I made a judgment call there and it wasn't one of the best choices that I had, but I pushed his car out of the way on pit road and unfortunately there were men walking down pit road. I hate it that somebody could have gotten hurt, but I was just trying to get away from it and get back to my hauler and go on with my own business," the Joe Gibbs Racing driver said.
NASCAR has seen many such heated incidents over the years and when two of its biggest drivers are involved, it becomes a big deal.
ADVERTISEMENT
Article continues below this ad
It has been long since then and both Harvick and Busch have gone on to win Cup titles since. They share a healthy level of respect and Harvick recently tagged Busch as the best Cup Series driver.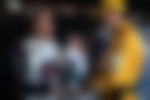 We can expect another interesting on-track battle in the Goodyear 400 Darlington throwback race on Sunday.
ADVERTISEMENT
Article continues below this ad