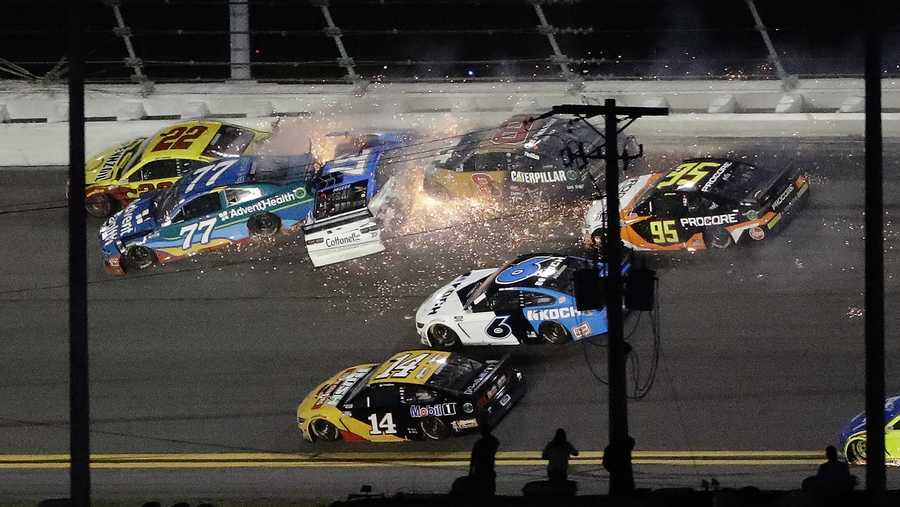 Chaos descended upon the NASCAR Daytone 500 in Florida. Driver Joey Logano triggered a 19-car wreck with 16 laps to go in the race. When all the cars gathered on the backstretch, Logano was among the leaders when he bumped into Aric Almirola. This pushed the latter into Brad Keselowski, who hit the wall and set off a chain reaction.
Several drivers were caught in 'The Big One', included Jimmie Johnson, Chris Buescher, Alex Bowman, Ryan Blaney, Martin Truex Jr., Kurt Busch, Matt DiBenedetto, Austin Dillon, Justin Haley, Ross Chastain, David Ragan, John Hunter Nemechek and more. Sadly for Keselowski, Johnson, Busch and DiBenedetto, it was curtains for the quartet
When he spoke to Fox Sports, a grouchy Keselowski said, "Instantly spun out. I had  Newman in front of me, I think I was about to push him. Lot of kinetic energy there. Made one mistake about a lap earlier. Bell was doing a great job of pushing Newman, I didn't think they'd have a strong a run as they did and they just got by me there on the bottom. I should have covered that better and I didn't. It's my fault, I kind of put myself in position for that."
Chaos strikes in the #DAYTONA500. pic.twitter.com/xDcbOvwpJm

— NASCAR (@NASCAR) February 17, 2020
Was Joey Logano at fault?
Meanwhile, an equally miffed Johnson admitted that Logano's #22 car was clearly showing a lot of aggression. So in all honesty, he was not at all surprised when The Big One eventually took place.
The carnage was so great that the red flag was waved and caused a 12 minute delay in the proceedings. It was also note-worthy that defending series champion Kyle Busch encountered mechanical issues. Fortunately, the red flag earned him some respite to get the issue looked at and rectify it.
However, the drama didn't end there, as another crash took place on Lap 198. Nine more cars were eliminated and resulted in Newman being placed in a serious condition.