NASCAR Driver Pays a Remarkable Tribute to Her Father in Law Who Passed Away Due to Coronavirus
Published 05/27/2020, 8:21 AM EDT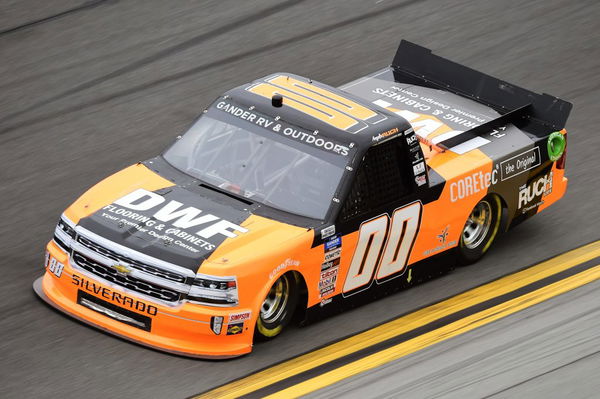 NASCAR Truck Series driver Angela Ruch paid a special tribute to his deceased father in law through his car. Angela's father in law, a U.S Airforce veteran died of Coronavirus in April.
ADVERTISEMENT
Article continues below this ad
Angela is a former Xfinity series driver who now competes in the NASCAR Gander RV & Outdoors Truck Series. She drives the No. 00 Chevrolet Silverado/Toyota Tundra for Reaume Brothers Racing.
Fox Sports reporter Alan Cavanna posted a picture of her car with her father in law's face on the front. The sign says, " In memories of Robert Carl Ruch, Proudly served: U.S. Airforce, Husband. Father. Friend"
ADVERTISEMENT
Article continues below this ad
"In the end, no one is alone. We are all in this together.": Angela Ruch, NASCAR Driver
ADVERTISEMENT
Article continues below this ad
She paid her tribute in the NASCAR truck series return race at Charlotte, North Carolina. She said, "COVID-19 definitely hits home for my husband and I and our family," said Ruch. "You hear about it on TV but when it actually hits in your own personal home, it's one of the hardest things I have ever had to deal with. You can't have the proper burial service when these things happen so for Mike (her husband) and I. It has been a struggle to get through the days."
This is Angela's first full season in the Truck Series and she is already having a brilliant start. She is the only driver in NASCAR who is also a mother. And earlier this year, she became the first female driver to ever lead a lap at Daytona.
Chase Elliott broke Kyle Busch's win streak in the North Carolina Education Lottery 200
ADVERTISEMENT
Article continues below this ad
Chase Elliott finally took home a win after loosing at the last stages in the last two races. Last night, Chase ended Kyle's winning streak in truck series. Additionally, he won $ 50,000 offered by Kevin Harvick to any cup driver who will beat Kyle in the truck series race.