NASCAR Fans Declare "Byron Didn't Win That" as Michael Jordan's Latest Recruit Credited for Hendrick Motorsports' Success
Published 03/13/2023, 4:23 PM EDT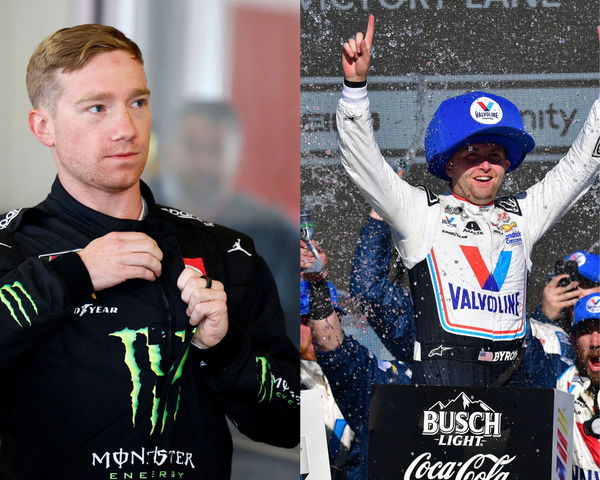 What would be a better start to the year than bringing home trophies? Hendrick Motorsports' William Byron, just brought two of them. His incredible victory in Las Vegas did not appear to satisfy his hunger. With unflinching concentration, he won the Ruoff Mortgage 500 at Phoenix Raceway, making it his second win in a row.
Furthermore, during deciding laps, he went bumper-to-bumper with Tyler Reddick and Kyle Larson, leaving them flabbergasted to clinch his second title. Some believe that it was Michael Jordan's latest recruit who might have given a helping hand to Byron at the crucial moment.
Did Tyler Reddick actually help Byron?
ADVERTISEMENT
Article continues below this ad
Tyler Reddick, driving his first season for 23XI Racing, did something in the final laps of the race that seemed to take away some credit from the winner and also could have provoked Larson a bit.
During the second-last lap, Larson, Byron, and Reddick were almost adjoining each other. During the hustle to overtake, Byron received a soft push from Tyler, which helped him overtake Larson, thereby winning the race.
 

View this post on Instagram

 
Even though William Byron got his second win in a row, fans believe that he owes Reddick a favor for his assistance. The comments section holds a mix-bag of comments; some favor Tyler, and some Byron. One of the fans wrote, "I forgot who but someone predicted that this would be Byron's season… nobody believed him."
However, a barrage of comments in favor of Reddick was seen, "Byron owes Reddick a beer."
"With a major assist by Reddick"
"I love Byron but I have to admit he would not have won without that push from Reddick!!"
"Byron didn't win that, Reddick won that race for Byron."
Many people think that Reddick inadvertently helped Byron win, but Byron had something else to say after the win.
Who did Byron think made him win?
ADVERTISEMENT
Article continues below this ad
After his phenomenal second victory in a row, William Byron gave credit to Rudy Fugel, for his strategies and execution plans that helped him throughout the race. He extended his thanks to the engine shop and Rick Hendrick, who has been a really great team.
During the post-race interview, Byron said, "Strategy-wise and execution wise we've done a good job to put ourselves in those positions at the front row with a shot at the end."
ADVERTISEMENT
Article continues below this ad
Many believe that without Reddick's assistance, Byron would not have had a chance to win, but Byron thinks that if they keep up their current efforts, they can win even more.
Watch This Story: Kyle Larson & Chase Elliott jointly approve controversial format that will leave some drivers terrified
Edited By: Nischal Kandpal