"Has Nothing Been Learned from Dale Sr?" – NASCAR Slammed as Cody Ware Screams "I Need Help" & Leaves on a Stretcher at Texas
Published 09/26/2022, 1:00 PM EDT

Follow Us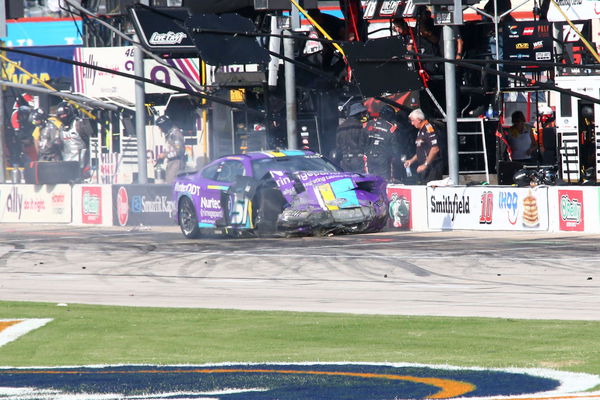 At the Texas Motor Speedway, there was a harrowing moment, when Cody Ware went head-first into the wall. Then, his helpless #51 car, skittered into the pits at high speed and hit the pit wall. When he was finally extricated from the car, he was in pretty bad shape. Naturally, this accident has only fuelled more debates about the safety standards in NASCAR.
Fortunately, there was some good news for Ware, as he was checked over for lingering injuries. As per reports from Fox Sports' Bob Pockrass, "No broken bones and no concussion for Cody Ware, who underwent x-rays in the care center and has been released. Some ankle discomfort. Team manager Robby Benton feels like he should be ok to drive next week but will need NASCAR approval."
ADVERTISEMENT
Article continues below this ad
How much has changed in NASCAR in terms of safety?
The one thing that NASCAR has going for it, is that there has been no fatality since 2001. Of course, that didn't mean that the drivers decided to play it safe to avoid crashing. After all, where is the fun in playing it safe and not taking risks in order to win? One fan highlighted a 2008 crash at Texas, involving Michael McDowell, who walked away, largely unscathed.
michael mcdowell walked away like nothing happened after a much more violent wreck at the same track in 2008, now in 2022, cody ware hits the wall and has to be carried out on a stretcher, how has the safety gotten WORSE??? pic.twitter.com/u31TWPh3pN

— trace 🖤🌸 (@SkyTrace29) September 25, 2022
Caution is out Cody Ware. Really scary incident.

"I need help" – Ware

— Dustin Albino (@DustinAlbino) September 25, 2022
glad he's ok, but still should be a big wake up call that safety need to be improved much more

— DennyDeliversYT (@DennyDelivers) September 25, 2022
very lucky wasn't worse. gonna be a constant talking point for a while unfortunately…

— Carson Hocevar (@CarsonHocevar) September 25, 2022
Ware, on the other hand, had to be stretchered away and was even heard begging for help. A lot of people suggested that this accident should be a wake-up call for NASCAR. After all, they already have one driver sidelined for the remainder of the season, a certain Kurt Busch.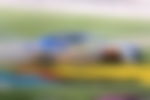 Another driver is hurt and NASCAR doesn't do a damn thing to protect the drivers. Week after week these drivers are complaining how bad this new car is and nobody holds the feet to the fire. It is time Bob for you to call NASCAR out on this dangerous car

— Chris Phineas (@ChrisPhineas) September 25, 2022
Thank God! @NASCAR needs to go back tomthe drawing board with this car. We should have multiple tire failures & multiple fires each week. Drivers also should be absorbing the impact of the crashes. Has nothing been learned from Dale Sr., Clifford Allison, Adam Petty, et al??

— Ann-Marie Fisher (@trulyredflame) September 25, 2022
There's been probably 2-3 hits at least today that could have caused an injury, glad to hear Cody and everyone else today is ok

— Neal Lawson (@Imfoolsgold) September 25, 2022
ADVERTISEMENT
Article continues below this ad
Then what made him fall down behind the wall if no concussion then? Heat exhaustion? Actual ankle weakness beyond just being "discomfort"? Was it an actual "twisted" ankle? I had a twisted ankle make me pass out. Awful thing to deal with.

— RindaLynn (@RindaLynn) September 26, 2022
ADVERTISEMENT
Article continues below this ad
Many fans have a point because, in the past few races, there have been numerous failures on the cars. Firstly, there have been a few fires breaking out in the cars, something which has infuriated Kevin Harvick. Then, at the Texas Motor Speedway, nearly every crash occurred because the drivers lost the rear end of the car and hit the wall. This is pretty much an indication that the tires had failed, and the drivers quickly became passengers.
WATCH STORY: The Worst NASCAR Crashes of All Time
Edited By: Nizamul Haque Bhuyan