NASCAR Fans React After Chase Elliott-Denny Hamlin Revelation Comes to Light
Published 08/08/2022, 10:15 AM EDT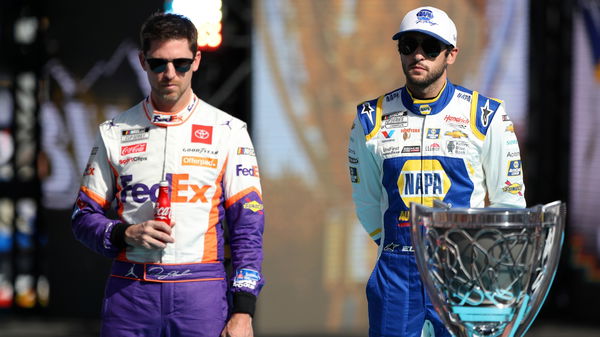 Following the race in Michigan, NASCAR Cup Series driver, Kevin Harvick was declared the official winner after the post-race inspections. However, the cars of Chase Elliott and Denny Hamlin went off to the R&D center for a proper teardown inspection.
ADVERTISEMENT
Article continues below this ad
Fans over Twitter seemed to be concerned for both drivers, considering back in Pocono, Hamlin was disqualified after a similar post-race inspection.
ADVERTISEMENT
Article continues below this ad
NASCAR journalist Bob Pockrass took to Twitter and revealed that both cars will be taken down for a proper teardown. He also mentioned that the results of the inspection would be announced somewhere around Tuesday or Wednesday.
Naturally, fans showcased their concern, as they were unaware of what the suspicion was leading to such an inspection.
Maybe they can tell the 9 team what was wrong with that piece of junk today lol. Yikes. That was a rough one

— Brandon Weadon (@BrandonWeadon) August 8, 2022
This. If that ain't the most accurate assessment of this. Almost like nascar thought "Jesus he was so terrible we should see how they turned this thing into a pontoon boat."

— J.T. (@Red_and_Royal94) August 8, 2022
they're definitely gonna find some sort of 1500hp hydrochloride acid-powered motor equipped with nos in Hamlin's car aren't they

— Patrick🇮🇪 (@poggerspatrick) August 8, 2022
I'd be pissed AF if they were found cheating and couldn't get out of 15th all day.😂😂

— HowYouDoin? (@63JayCee) August 8, 2022
Denny Hamlin: "Ah, Here we go again."

— Justin Oros #TeamLarson (@NASCARSW05) August 8, 2022
Watch This Story: NASCAR Journalist Clears the Air on the Controversial Denny Hamlin-Kyle Busch Disqualification
What if that's the issue someone planted additional weight or something watch they going to find a boulder in Elliott's car🤦🏻‍♂️😬🤣😂🤣😂🤣💀

— Connor Chadwell (@chadwell_connor) August 8, 2022
I'll be very surprised if they caught something on that 9 car with how terrible that car was all day

— Josh Carroll (@JoshCarroll52) August 8, 2022
What happens in a NASCAR post-race inspection?
NASCAR officials inspect several things during a post-race inspection. One of the primary aspects they look at is the height of the rear wing.
Furthermore, they also check the ride height, downforce generation properties, engine regulations, how much fuel each car is carrying, and several other minute details.
Sometimes, if there is any sense of suspicion officials might take the car to NASCAR's research and development center to go through a proper tear down of every component of the vehicle.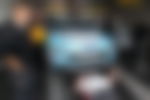 ADVERTISEMENT
Article continues below this ad
Race damages are always taken into consideration while delivering their judgments. They also select a car's engine at random to run on the dynamometer to find if there are any hidden discrepancies with the horsepower outputs.
NASCAR runs a no-tolerance policy if teams are found to infringe on the rules and regulations set by the officials. This is done in order to prevent others from finding an unfair edge over the rest of the competition.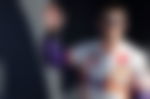 ADVERTISEMENT
Article continues below this ad
Moreover, with the new generation of cars on the field this season, NASCAR has updated its rulebooks for the Car of Tomorrow (COT). Under the new guidelines of COT, penalties and fines have proved to cause a massive dent in the wallets of both the drivers and team alike.
Following all the tests, NASCAR usually discloses the results of their findings by either Tuesday or Wednesday.