NASCAR Fans Unhappy With Bubba Wallace for Trying to 'Stir the Pot' After Austin Cindric's Daytona 500 Win
Published 02/21/2022, 11:32 AM EST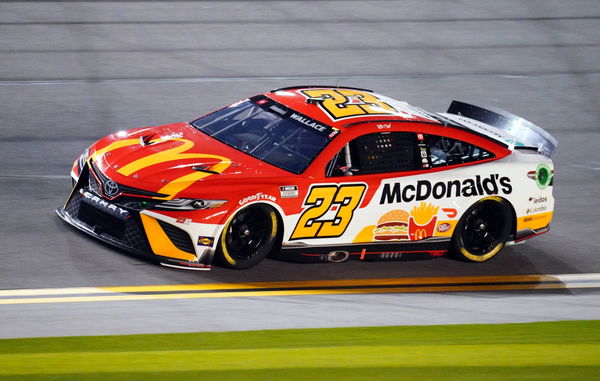 The Daytona 500 weekend concluded with Austin Cindric winning the race. However, the post-race inspection spelled trouble for the Team Penske and Roush Fenway Keselowski Racing teams. As it turned out, the officials confiscated the wheels on Friday morning for investigation. In light of that, 23XI Racing driver Bubba Wallace took a dig at the 'illegal' wheels.
ADVERTISEMENT
Article continues below this ad
Ayeeeee don't they got them illegal wheels👀👀👀👀👀

🐸☕️

— Bubba Wallace (@BubbaWallace) February 21, 2022
ADVERTISEMENT
Article continues below this ad
However, it seems that not many fans appreciated the dig. In fact, several of them called out the #23 driver for it. Many of them acknowledged that those tires did not affect the performance much. Meanwhile, some other fans declared that he was already gifted a win last year, and asked whether he wanted to 'earn' it.
This was a reference to his maiden Cup Series win at the Talladega Superspeedway. At that time, the race was stopped due to inclement weather conditions, and Wallace was the race leader. So, he pretty much got the win and it counted as his first win in his NASCAR Cup career.
Why tweet that? You were in it at the finish. Wheels had nothing to do with it…why stir the pot?

— Scott Russell (@russrace40) February 21, 2022
You already got gifted a win last year, don't you wanna earn one?

— Rocky Balboa (@italian_sta1ian) February 21, 2022
Nascar took those away. However after the issues with wheels today I won't be surprised if R&D doesn't come out & say Brad was right about he safety.

— 👁❤the👂🏻of🏎💨s (@Pixxydoodle) February 21, 2022
I agree. Wtf with wheels splitting in two? Looks like that smaller sidewall and larger contact patch needs some work. I know it's a two piece wheel but damn. Coming apart at 185mph. Many issues with wheels today

— CJ (@sassitupatl) February 21, 2022
Bubba Still Mad That It Wasn't Pouring Down Rain At Daytona While he was leading where Nascar Could Gift Here Another Win Lol!!

— Justin Watson (@JustinW64441152) February 21, 2022
You still didn't win either way, you dropped below the line

— Joshua Pierce (@Joshuajpierce13) February 21, 2022
Where did Bubba Wallace finish in the Daytona 500?
ADVERTISEMENT
Article continues below this ad
In the end, Wallace finished in 2nd place, just behind Cindric. The 23XI Racing driver was just three feet shy of the victory and was understandably upset. This could have been the dream start for the driver and the team. As an added bonus, it would have shut up critics who felt that he lucked out with his Talladega win.
Wallace said, "What could have been, right? Man, need to talk about some happy stuff here. I'm just dejected, but the thing that keeps me up is just the hard work that we put into our speedway stuff and the hard work from everybody at 23-11 (Racing), proud of them, can't thank them enough."
ADVERTISEMENT
Article continues below this ad
Now, all that he can do is move on from the Daytona 500 and look ahead to the other races. After all, the season has just begun and this gives him plenty of time to redeem himself.