NASCAR Heat 5 Unavailable for Pre-Order on PS4 Because of Technical Issues
Published 06/24/2020, 3:48 PM EDT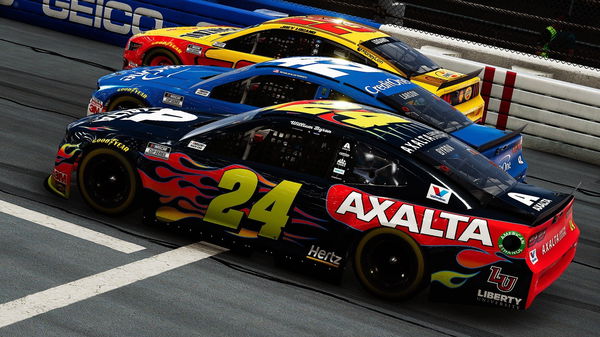 ---
---
Today, Motorsport Games announced that NASCAR Heat 5 won't be available in the play station store for pre-order because of some ongoing updates to the PS store.
ADVERTISEMENT
Article continues below this ad
Motorsports Games announce it through NASCAR Heat's official twitter account. They write in a tweet, "Unfortunately #NASCARHeat5 pre-orders won't be available on PS4."
After that, they wrote, "but we're not going to let that stop us from providing pre-order content to early adopters! Head to http://preorder.NASCARHeat.com to enter your details and ensure you get FREE access to that content at launch!"
ADVERTISEMENT
Article continues below this ad
Additionally, The official website says, "NASCAR Heat 5 will be available on PS4 but is not available for pre-order on the PlayStation Store at this time".
For PlayStation 4 users the game will be available for purchase on July 10th. However, Motorsports games will provide a complimentary code to users to access all the additional content of the pre-order pack.
The pre-order pack comes with some additional benefits like 'a free Career Booster pack, $125,000 of in-game cash to build your own team, and extra Sunoco paint schemes.'
ADVERTISEMENT
Article continues below this ad
NASCAR Heat 5 Gold Edition features Smoke
NASCAR Heat 5 Gold Edition will feature Tony 'Smoke' Stewart's NASCAR Cup championship-winning car from 2011. And many classic NASCAR liveries from Stewart's career will be available in the gold edition.
The game will enable gold members to use Tony Stewart as their in-game spotter. And they can choose to drive for Stewart-Haas racing team in the 'career mode'. Additionally, the new game will introduce a career mode in which the players progress from the Xtreme Dirt, Gander Trucks, and Xfinity Series to the top tier NASCAR Cup Series
ADVERTISEMENT
Article continues below this ad
Notably, Tony Stewart co-founded the 'Stewart-Haas racing team' with Gene Haas of Haas Automotive. Gene also owns a Formula 1 team based in the UK.