NASCAR: Kurt Busch, Denny Hamlin Engage in Hilarious Banter in Response to Kyle Busch's Tweet
Published 03/23/2021, 11:48 AM EDT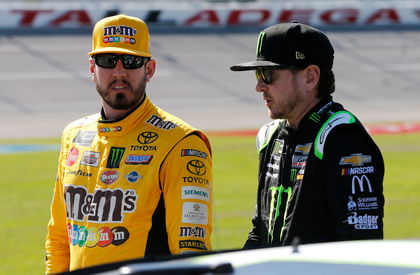 ---
---
Recently, the Joe Gibbs Racing NASCAR team had a squad meeting after the Cup race in Atlanta this past Sunday. While most of the members seemed to be seated, there was one big name in Denny Hamlin missing. Kyle Busch saw this as a chance to have some fun.
ADVERTISEMENT
Article continues below this ad
Busch took a selfie with others seated during the meeting and posted the image on Twitter. The two-time Cup champion posted a caption, that read, "Where u at @dennyhamlin?"
ADVERTISEMENT
Article continues below this ad
Seeing the message, Hamlin did not hold back and gave a cheeky reply to Busch. Hamlin said he is out buying flowers for Kyle's brother Kurt, causing him to be late for the meeting. "Buying your brother flowers," read Hamlin's response.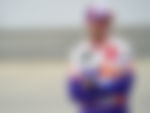 What did that reply mean from Denny Hamlin to Kyle Busch?
While one may be confused by Hamlin's response, it seems like he was referring to the on-track incident involving himself and Kurt, during the Cup race at Atlanta. During a restart, Hamlin rushed in, nudging Kurt from behind amid traffic and sending him into the wall.
Kurt suffered heavy damage to his no. 1 car, ending his race very early after he had an impressive start. The older Busch brother joined in the Twitter banter, with a funny reply to Hamlin, reminding him of his move during the race.
Kurt Busch was not happy with the move from Hamlin
After his day ended early, Busch was highly frustrated with the sequence of events. He believed he was set for a very strong finish at one of his stronger tracks, but an unfortunate incident halted his progress.
"Dude, it's a 500-miler. These are the days that hurt the worst. This absolutely hurts the worst….I'm pretty pissed off. It's a restart, where are we gonna go man, chill," Kurt said after his race ended.
ADVERTISEMENT
Article continues below this ad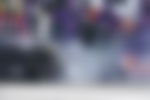 He seemed to be miffed with Hamlin for rushing into things on a restart and causing the damage, despite so much time left in the race. The former Cup champion was credited with a 39th-place finish eventually.
Hamlin, however, continued his good form so far this season and notched up another top-5 finish. He is the current leader in the Cup standings, on points. Meanwhile, Kyle Busch finished just behind Hamlin in 5th place.
ADVERTISEMENT
Article continues below this ad