NASCAR Legend Clint Bowyer Believes Kyle Busch Could've Won in Dover "Just as Easy" as Chase Elliott
Published 05/04/2022, 10:18 AM EDT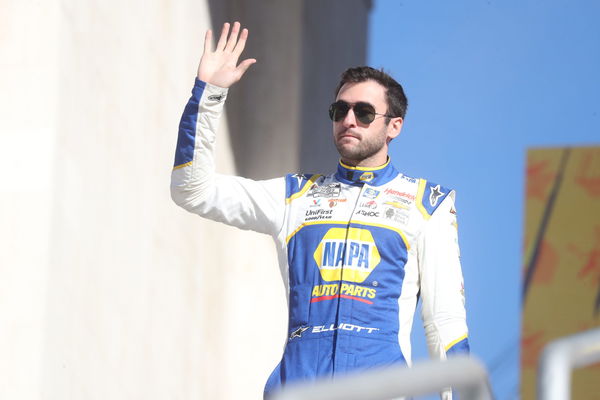 NASCAR was in Dover for the eleventh Cup Series race last weekend. The much anticipated DuraMax Drydene 400 race has finally come to an end and Chase Elliott picked up his first win of the season. However, a former NASCAR driver thinks Kyle Busch could've won the race had situation gone the Joe Gibbs Racing driver's way.
Chase won the race and that made him the fourth and final Hendrick Motorsports driver to pick up a win. Regardless of the win, Clint Bowyer, a former NASCAR driver and an analyst at Fox Sports believes Kyle Busch could've been the winner at Dover.
ADVERTISEMENT
Article continues below this ad
Talking about this, Clint conveyed, "In my opinion, Chase Elliott had the fastest car this weekend and won the race. From practice and everything, I thought the 9 car was the hit this week and it won the race but at caution, an untimely caution, and Kyle Busch perhaps I think he could have won the race just as easy."
Mike Joy, another Fox Sports announcer had something else to say. Joy further stated on this, "And Alex Bowman who was right there with Kyle Busch on pit-road with caution waves, so wow. Strange, topsy-turvy, comers and goers race in Dover. Just like we'd expect."
WATCH THIS STORY: Hendrick Motorsports Find Themselves Completing The Mexican Standoff Between Roush Fenway Keselowski Racing And NASCAR
Busch had a bitter-sweet experience in Dover.
The no. 18 driver
started from tenth on the grid, fetched the ninth position in stage one, the second position in stage two, just to finish the race in seventh place.
ADVERTISEMENT
Article continues below this ad
Where does Kyle Busch stand as compared to Chase Elliott?
Despite leading the driver's championship for the last few races, Chase couldn't win a race until he crossed the finish line at Dover Motor Speedway. With the win, the Hendrick Motorsports driver pulled off a massive gap to the top of the table. Elliott now has 418 points as compared to Ryan Blaney who's in the second position with 368 points.
ADVERTISEMENT
Article continues below this ad
As for Kyle Busch, he won the race in Bristol three weeks back whereas Alex Bowman won in Las Vegas. As of now, the Joe Gibbs Racing driver is in the fourth position with 353 points after Dover followed by the Team Penske's Bowman with 349 points in fifth place. NASCAR goes to Darlington Raceway next week for the twelfth round of the season.