NASCAR Legend, Who Escaped the Jaws of Death in a Spectacular Crash Once in 1994, Sadly Passes Away
Published 03/19/2023, 6:30 AM EDT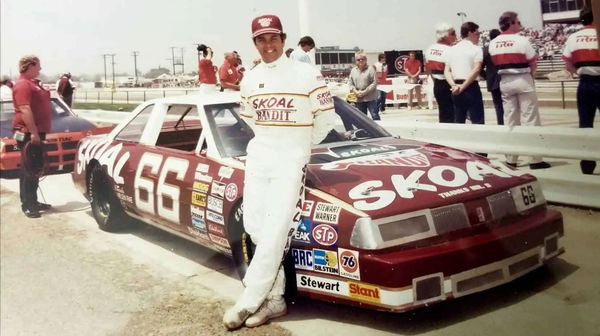 NASCAR drivers earn their bread and butter by piloting stock cars across speedways at an insane pace. They flirt with death on a weekly basis and narrowly escape it at times as well. However, father time is a thing that catches up with one and all as it did with a 72-year-old NASCAR West Series legend who breathed his last a few days back. This NASCAR stalwart left behind a rich legacy in NASCAR and ARCA racing.
Even though the driver couldn't land a full-time ride in the top tier of the sport, he made a handful of appearances in the Cup Series between 1978 and 1994. It was in that latter year that he came face-to-face with death and lived to tell the tale. While racing at the Sonoma Raceway in what turned out to be his final Cup Series outing, this racer was involved in a massive crash with Derrike Cope.
After Cope bumped him on his right, he flew off the tarmac and into the tire barrier that propelled his Chevrolet into the air. The car cartwheeled before coming to a stop the right way up. Mercifully, he was able to walk away from the wreck without any assistance. That race turned out to be his final drive in the NASCAR Cup Series.
ADVERTISEMENT
Article continues below this ad
Ardent NASCAR enthusiasts may remember that this man ran 141 races in the NASCAR West Series with 62 top-10 finishes, and 24 top-5 finishes. He even claimed a race win in 1978 on the dirt track of Ascot Park. 27 years after his win, he spoke fondly of the circuit. As per NASCAR racemom.com, he said, "Ascot Park fun car to drive. I always unload fast, very low budget to operate."
Despite having a highest Cup Series finish of 19th at Riverside in 1982, he touched wheels with the greatest drivers in NASCAR history, including Richard Petty, Ray Elder, Bill Elliott, and Dale Earnhardt. The man we are talking about is John Krebs.
Krebs raced against some big names in NASCAR
Unfortunately for John Krebs, he could never go full-time in the top tier because of not having enough support at a time when costs to race were increasing and teams who weren't supported by manufacturers had trouble getting a foothold in the series.
Later on in his career, Krebs became a car owner and crew chief for Takuma Koga until 2018.
WATCH THIS STORY: "I Got Thinking What Dale (Earnhardt) Told Me" – Richard Childress Reveals the "Great Horse Wreck" Which Kept Him From Quitting NASCAR
Ex-drivers and associates remember John Krebs after his sad demise
ADVERTISEMENT
Article continues below this ad
The 45-year-old Takuma Koga was shocked at the news of Krebs' passing. "What very sad news. I can't believe it," Koga said as per kickinthetires.net. Another driver, Justin Funkhouser, also paid his respects to Krebs.
"He was a good man and dearly missed. Lots of us learned a lot from him," Funkhouser said.
ADVERTISEMENT
Article continues below this ad
Joey Lest, who was the driver Krebs made his last race appearance for as a spotter in November 2022, remembered him as "such a wonderful and friendly man." 
"A great spotter and coach," Lest added.
Edited By: Nischal Kandpal