NASCAR Makes Adjustments for Cup Series Race After Rain Causes Havoc in Xfinity Race
Published 10/11/2020, 1:33 AM EDT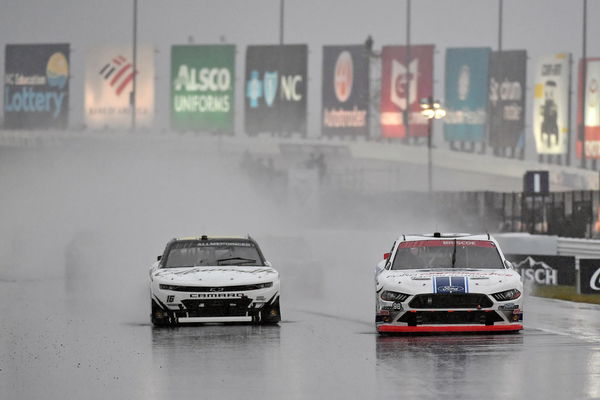 ---
---
The NASCAR Xfinity Series Round of 12 playoff elimination race was one of the most chaotic races of the season. Not because of a huge number of wrecks or crashes, but with drivers running on a drenched road course and at times, through puddles.
ADVERTISEMENT
Article continues below this ad
Even though the NASCAR Cup Series elimination race on Sunday is a day race, Charlotte Motor Speedway decided to add lights to the infield portion at the Roval. Speedway Motorsports President Marcus Smith made the call after the Xfinity race.
ADVERTISEMENT
Article continues below this ad
On Saturday, Xfinity drivers complained that the infield portion of the course was quite dark in the latter stages of the race. The race started late in the afternoon but ended after sunset in very difficult conditions.
In another adjustment for Sunday's Cup race, the big screen on the backstretch will be dimmed as the Xfinity drivers felt it blinded them during the race. Race winner AJ Allmendinger spoke about the challenges on Saturday.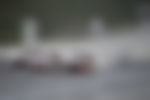 Why NASCAR called for these adjustments for the Cup race
"The last, I'd say 20 laps where it started to get dark, that was a challenge in the infield," Allmendinger said after his win. He said that the outside part of the track was still manageable, but the infield was the issue.
"On the outside of the racetrack, where the lights are for the normal banking, it wasn't that bad. But in the infield, it was definitely dark."
He said there were occasions during the race when he couldn't even see where he was on the track. "The jumbotron was blinding, honestly. There were times I turned into Turn 4 (of the infield) on the last couple of laps. And just had no idea if I was even in the corners."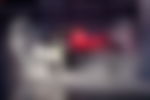 Cup Series drivers are in for a chaotic race
ADVERTISEMENT
Article continues below this ad
Saturday's race was stopped for over 30-35 minutes after Lap 30, due to the weather. Rain troubled drivers throughout the race. The same is expected on Sunday.
Allmendinger won Saturday's race ahead of Noah Gragson and Daniel Hemric. Brandon Brown, Harrison Burton, Riley Herbst, and Michael Annett were eliminated from the playoff race.
The chance of rain in Sunday's Cup race is over 75 percent and the race will happen unless there is lightning or an excessive amount of rain. The start time is an hour earlier than the Xfinity race.
ADVERTISEMENT
Article continues below this ad