NASCAR Pundit Provides an Explanation Behind Bubba Wallace Escaping a Penalty for Short-Cutting in Indianapolis
Published 08/05/2022, 3:45 AM EDT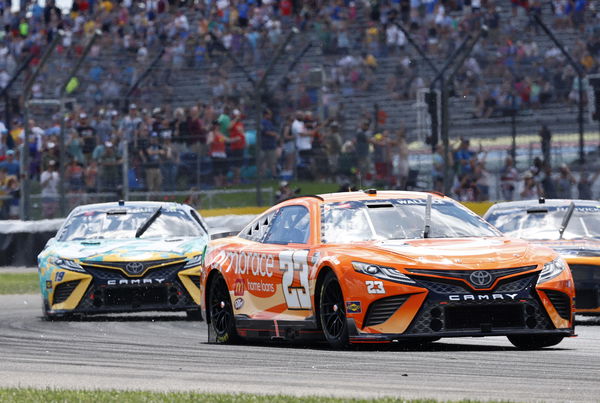 During the NASCAR Cup race at the Indianapolis Motor Speedway road course, there was plenty of chaos. Most of it boiled down to the fact that multiple cars squeezing into a narrow first was always going to end in catastrophe. During one particular restart, there was the usual tomfoolery into Turn 1. Bubba Wallace took to the grass to avoid the chaos, and he was also forced off the track.
Some people were confused about why he did not get a penalty, because he moved up from 16th to 9th. However, NASCAR journalist Bozi Tatarevic provided a detailed explanation about why Wallace did what he had to do.
ADVERTISEMENT
Article continues below this ad
Burton splits of to the right of Briscoe and edges slightly ahead while Wallace is on the left of Briscoe just as Chaos starts to ensue. pic.twitter.com/leCWlZgPaS

— Bozi Tatarevic (@BoziTatarevic) August 2, 2022
The crash between Kyle Busch and Briscoe results in Bubba being pushed towards the grass and at that point he is just slightly behind Burton. pic.twitter.com/hyMtevj8qb

— Bozi Tatarevic (@BoziTatarevic) August 2, 2022
Behind them we can see that four cars that were previously ahead of Bubba are now spun behind him and whether he had continued or attempted to somehow turn right he would still be ahead of them. pic.twitter.com/8NNtaalbgw

— Bozi Tatarevic (@BoziTatarevic) August 2, 2022
At best, he gained maybe a single position because NASCAR only penalized him for gaining on Burton and did not make him go behind LaJoie.

— Bozi Tatarevic (@BoziTatarevic) August 2, 2022
With three laps to go in the restart, Wallace and Harrison Burton were battling for 16th. Both of them sandwiched Chase Briscoe, with Wallace on the outside. Unfortunately, Briscoe spun Kyle Busch around and he was forced to take to the grass.
What else happened to Bubba Wallace during the incident?
It is crucial to note that Bubba Wallace was still behind Burton when he turned his car into a high-speed lawnmower. At this juncture, he clipped the Stewart-Haas Racing car and ended up getting pushed further onto the grass. Sure, he could have turned towards the right to rejoin the track, but he would run the risk of spinning. As he cut through the grass, four cars that were previously ahead of Wallace, spun as well.
ADVERTISEMENT
Article continues below this ad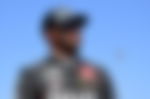 Regardless of what he did, the four spins would have handed him four free positions. Other spinners included Martin Truex Jr and Austin Dillon. At the end, when his #23 car touched the tarmac, the only car he actually overtook was Harrison Burton.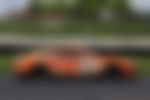 In essence, without the trip through the grass, he would have wound up at least in 11th place. Admittedly, he also rejoined ahead of Corey LaJoie, but was already ahead of the #7 driver before going off track. In the end, NASCAR simply elected to let him allow Burton to pass and resume in 10th place.
ADVERTISEMENT
Article continues below this ad
WATCH STORY: Bubba Wallace Spotter Explains the Reason Behind His "F**king Terrible" Rant With Toyota Factor Blamed in Phoenix