NASCAR Spotter Takes Major Offense to Hendrick Motorsports Star Kyle Larson's "Black Eye" Comments
Published 09/28/2022, 2:45 PM EDT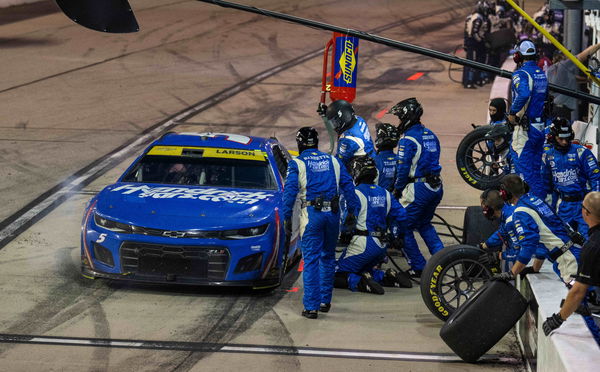 It is safe to say that the Texas Motor Speedway is probably not going to top any popular NASCAR track listicles. Even the drivers are not particularly big fans of the track.
ADVERTISEMENT
Article continues below this ad
Recently, Kyle Larson launched a particularly scathing attack against the race track. In light of this, NASCAR spotter Brett Griffin spoke about the criticism leveled against it.
ADVERTISEMENT
Article continues below this ad
He said, "If you're a Kyle Larson fan, you should be spot on for what this guy said. He's being very transparent."
"If you are the owner of NASCAR, if you are the owner of Texas Motor Speedway, if you're trying to sell tickets, get more eyeballs. You have a past champion and one of the best drivers in the world saying, 'This race track sucks'."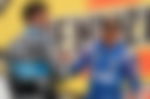 "Is that going to make people watch? Is that going to make people buy a ticket?"
What else did Brett Griffin say about Kyle Larson's criticism?
Considering that last weekend's race was a bit of a let-down for many, the Hendrick Motorsports star may have a point. But according to Griffin, it is not a good look for NASCAR when your defending champion is criticizing the track.
He also confessed that Kyle Larson could have aired his grievances at another time.
Griffin continued, "Is that good for the sport, leading into the weekend where the race is at Texas Motor Speedway? No!"
ADVERTISEMENT
Article continues below this ad
"So I'm going to have to side with the fan in the situation and be spot off. I don't think the timing of that – I think he said it after a wreck, after the race this weekend, this week, whatever. But to say something that harsh, while we're already there, that's a black eye on the race track."
WATCH THIS STORY: Kyle Larson Reveals He Is "Nervous" NASCAR Will Double Down on the Thing Hendrick Motorsports Teammate Chase Elliott Loves the Most
ADVERTISEMENT
Article continues below this ad
Now, what's done is done and nothing can change the past. All that anyone can do is listen to the drivers and try to improve things for them. For now, the paddock is looking forward to the next race at the Talladega Superspeedway.
Admittedly, there is a bit of a cloud of doubt because of Hurricane Ian, but we will have to pray that everything is smooth.
Edited By: Ranvijay Singh