NASCAR Star Kaz Grala Invites NFL Legend Tom Brady to Enter NASCAR Sponsorship
Published 03/06/2021, 5:30 AM EST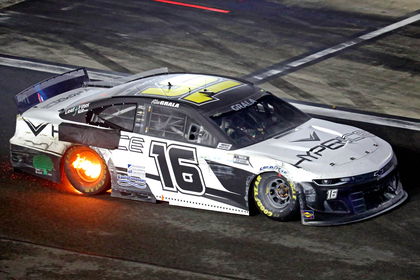 ---
---
Lately, there has been a lot of NFL involvement in the world of NASCAR racing. From Alvin Kamara to Antonio Williams, NFL interest in the sport has been increasing. Now, NASCAR part-time Cup driver Kaz Grala dropped a message to try and entice superstar Tom Brady into joining the sport.
ADVERTISEMENT
Article continues below this ad
Apparently, Brady kick-started the conversation on Twitter. When the NFL season concluded, he asked fans to brainstorm ideas on what to do in the off-season. Some fans suggested that he sponsor Grala for a couple of races, and the Xfinity driver jumped at the chance to try and convince him.
Grala said, "I think you [Tom Brady] should join the NASCAR family. We've got Michael Jordan now, coach Joe Gibbs, even Pitbull. What we're missing right now is a 7-time champion.
ADVERTISEMENT
Article continues below this ad
"Why should you sponsor me? I've been successful running in all three series in NASCAR."
How else did Grala try to convince Tom Brady?
Kaz Grala continued, "I'm a first generation American, living the dreams of my family. We both migrated south from Boston, and so far it seems to be working pretty well for the both of us."
From there, Grala openly beseeched Brady to contact him and even gave his number. So far, Brady has yet to respond, but his presence could be a massive boon for the NASCAR community. On a different note, Kaz Grala is splitting time between the Cup and Truck Series. It is also worth mentioning that he ended up in eighth place at the Daytona road course Truck Race. However, his Cup Series Daytona 500 stint was quite lacklustre. Nevertheless, the 22-year-old is still fairly young and has plenty of time to grow.
ADVERTISEMENT
Article continues below this ad
Grala is obviously trying to rope in Tom Brady, purely because of the latter's star power. Brady is regarded as one of the best NFL players of his generation. With the kind of sway that he has in the fanbase, his presence in NASCAR could be a big boon.
For the moment, Brady will be focusing on his Tampa Bay Buccaneers career. He boasted of a dream start to his Bucs career that culminated in a seventh Super Bowl win. Now, he will be keen to continue the momentum into the new season.
ADVERTISEMENT
Article continues below this ad