NASCAR Talladega Throwback: Jimmie Johnson Wins in One of the Most Memorable Finishes
Published 04/25/2021, 12:00 PM EDT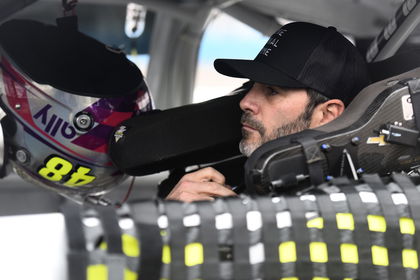 ---
---
Back in 2011, Jimmie Johnson prevailed in one of the most exciting NASCAR finishes. He was battling with Dale Earnhardt Jr, Jeff Gordon, Clint Bowyer, Mark Martin, Kevin Harvick, Greg Biffle and Carl Edwards. All eight cars split themselves into pairs and each pair were nose-to-tail.
ADVERTISEMENT
Article continues below this ad
At the time, Johnson was running in 5th and getting a push from Dale Earnhardt Jr. Soon, the duo moved to the inside to make it three-wide. From there, Jimmie Johnson, Jeff Gordon, and Clint Bowyer staged a drag race to the line. In the end, the #48 driver emerged triumphant by two thousandths of a second.
ADVERTISEMENT
Article continues below this ad
Ultimately, Harvick's assistance was not enough to secure the win for Bowyer. Even Mark Martin could not propel Gordon to victory. Meanwhile, Biffle and Edwards made it a four-wide finish, but were barely in the running for the win. Suffice to say, every driver judiciously abused the slipstream power of the Talladega Superspeedway.
What is Jimmie Johnson up to now?
ADVERTISEMENT
Article continues below this ad
Since then, Johnson has retired from NASCAR racing and is competing in the IndyCar Series. Meanwhile, Kevin Harvick is the only driver left from that titanic battle, still racing in NASCAR. Martin, Biffle, Edwards, Gordon and Earnhardt Jr all retired from racing, long ago. Meanwhile, Bowyer also hung up his boots around the same time that Johnson did.
The only difference is that Bowyer is undertaking a new profession, commentary. To be precise, he has joined Jeff Gordon in the Fox Sports commentary booth for the 2021 season. Meanwhile, Johnson completed his first IndyCar race last weekend at the Barber Motorsports Park.
Unfortunately, he did not enjoy a particularly great debut race. He finished all the way down in 19th place and the slowest of the three rookie drivers. Nevertheless, Johnson will be hoping to bounce back in this weekend's race at St. Petersburg.
ADVERTISEMENT
Article continues below this ad