NASCAR to Team Up with Podcast Series to Roll Out New Content
Published 09/04/2021, 11:03 AM EDT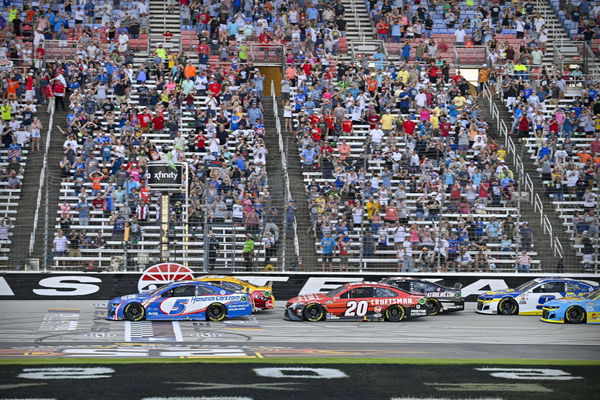 ---
---
Recently, NASCAR announced that it will collaborate with the 'I AM ATHLETE' podcast series. The two already had a trial run earlier this season, with a handful of interviews with the drivers. It is worth mentioning that the podcast is regarded as the fastest-growing, athlete-led media platform. The podcast primarily caters to the NFL, but the recent announcement suggests that it is branching out.
ADVERTISEMENT
Article continues below this ad
Now, the two parties have chosen to partner up and shine a spotlight on the athletes, their personalities and storylines. Furthermore, it will delve into the sport's culture and highlight fan experiences as well. This new series is premiering on YouTube with a grand total of 16 episodes, and the first episodes will drop early this fall. Interestingly, the podcast is the brainchild of former NFL All-Pro Brandon Marshall.
ADVERTISEMENT
Article continues below this ad
"NASCAR is a dynamic sport that has a tremendous opportunity to engage new and diverse audiences," said Marshall. "We see I AM ATHLETE as an amazing vehicle to help NASCAR build exposure and introduce its athletes and experiences to new communities of fans."
How has NASCAR been incorporated into the series?
ADVERTISEMENT
Article continues below this ad
Back in March, I AM ATHLETE aired its first NASCAR-themed episode. Bubba Wallace had the honor of being the first guest. Since then, the series aired four more episodes in order to explore this avenue further. Appearing on these shows were Dale Earnhardt Jr, Kyle Busch and Toni Breidinger. A special episode even covered the NASCAR Drive for Diversity Pit Crew Development Program.
According to NASCAR vice president Tim Clark, Marshall's program aligns with the sport's agenda. Without a doubt, the stock car series is full of compelling stories and personalities. So with the aid of the partnership, the sport can show off its stars and the overall experience.
ADVERTISEMENT
Article continues below this ad
To promote the partnership, 'I AM ATHLETE' released a teaser video at Daytona for the regular season finale. When the Series kicks off, Marshall will interview various NASCAR athletes.