NASCAR Truck Series' Ben Rhodes Uses Denny Hamlin and Joey Logano Reference to Explain Racing Incident
Published 09/11/2020, 8:30 AM EDT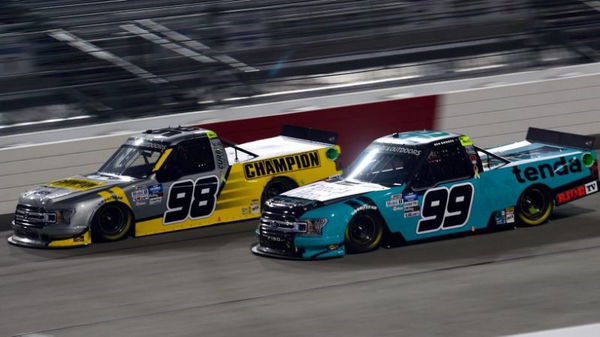 ---
---
The NASCAR Gander RV & Outdoors Truck Series race at the Richmond Raceway saw a clean sweep on the podium by ThorSport Racing. Grant Enfinger enjoyed an eventful night with mixed fortunes and two incidents that involved teammates Matt Crafton and Ben Rhodes. However, he held on for the win as Crafton and Rhodes finished behind him.
ADVERTISEMENT
Article continues below this ad
One of those incidents involving Rhodes almost spoiled the race for him. Enfinger pinched Rhodes' car in the third stage as they fought for the lead. They made contact as Enfinger picked up a tire rub, but he came back quite strong.
Rhodes spoke about the incident later, calling Enfinger 'notorious'. At the same time, Rhodes liked the competitiveness in the race and used a term as 'Joey Logano or Denny Hamlin would use'.
ADVERTISEMENT
Article continues below this ad
"Just got loose underneath him and had a little contact. But that's just good, hard racing, as I guess Joey Logano or Denny Hamlin would say," Rhodes said in his post-race interaction.
The other incident, saw Enfinger skillfully pass Crafton with just seven laps to go as he held on for the win.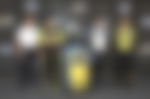 Rhodes teases NASCAR Truck Series teammate Enfinger
Rhodes also teased Enfinger and his tendency to pinch other drivers on the door. "I guess I set him up for a win, unknowingly. Grant is notorious for laying on your door. My teammate Crafton is here," he said looking at Crafton who was also in the room. "Oh yeah, he's smiling now," he continued.
ADVERTISEMENT
Article continues below this ad
"That's just kind of how Grant races. He races hard, he's a fierce competitor. When he was on my door, I just got loose underneath," Rhodes added. Rhodes went on to say that he loves racing at Richmond and that he hopes it stays on the sport's Truck Series schedule next year.
ADVERTISEMENT
Article continues below this ad
"Believe it or not. Richmond is an awesome track and one of my favorite tracks that we go to. And I really really really hope it's back on the schedule. The last time I raced here was 2014," he added.
The race on Thursday was the regular-season finale in the Truck Series. The 10-driver Playoffs field is now set with Enfinger, Rhodes, and Crafton all set with positions on the grid.