NASCAR Truck Series Drivers Ben Rhodes and Christian Eckes Indulge in a Fight After Racing Incident
Published 10/26/2020, 5:00 AM EDT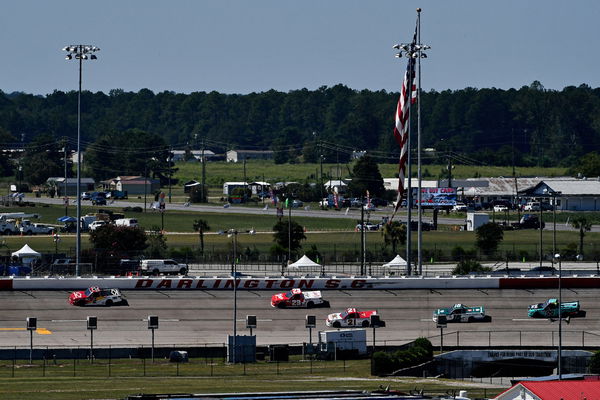 ---
---
During the NASCAR Truck Series race at Texas, Christian Eckes earned the ire of Ben Rhodes. Both drivers had differing views on the incident. According to Rhodes, Eckes ran him out of the groove, at least twice. From there, he hit the wall and got turned around. While he tried to save the car, he ended up colliding with the #18 car.
ADVERTISEMENT
Article continues below this ad
He admitted that the contact was unfortunate; however, he was furious that the #51 truck retaliated and wrecked him. To make matters worse, an out-of-control Rhodes took out Josh Bilicki.
Afterward, he apologized to Bilicki and his team for the incident. However, he declared that the Kyle Busch Motorsports (KBM) drivers like to steamroll over everyone.
ADVERTISEMENT
Article continues below this ad
Ben Rhodes said, "I was in the truck, I know what happened. I tried to pass the #2 for the lead on the outside, he does the same thing and I almost hit the wall. Then the #18 does it for the second time in the race. It's a shame because I know how hard our guys have worked for the playoffs.
"It all comes from the KBM guys, It seems to be a lack of talent over there. I think that's evident though when Kyle (Busch) hops in the truck and he goes and wins," he added.
The two NASCAR Truck Series drivers were not finished with their wrath
ADVERTISEMENT
Article continues below this ad
Afterward, Eckes went to Rhodes' hauler to clear the air between them. However, what he hadn't counted on was the fact that Rhodes was still fuming at the incident. So, after a lengthy and heated conversation, things escalated into a shoving match before the two were separated.
ADVERTISEMENT
Article continues below this ad
Truthfully speaking, Ben Rhodes had every right to be angry, as Eckes could have cost him a playoff berth. With the race done and dusted, the #99 truck driver faces a must-win situation when the paddock heads to the Martinsville Speedway.
Rhodes is still fighting for a chance to make the Championship 4 for the first time in his Gander Trucks career. As a result of this setback, he lies seventh in the playoff standings, 45 points behind fourth-place driver Zane Smith. The big question now is, can Ben Rhodes turn things around, or will the Eckes collision be the deciding factor in him missing out?