NASCAR Xfinity Series 'Dash 4 Cash' Race Details Revealed
Published 06/02/2020, 9:14 AM EDT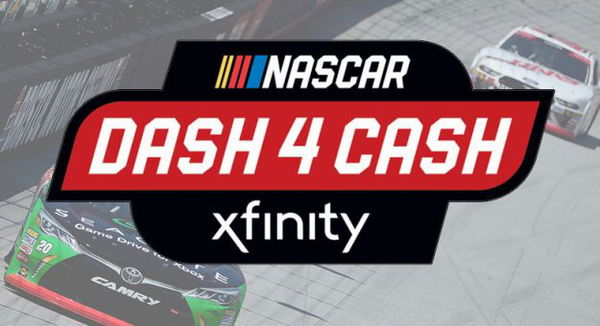 Last night's NASCAR Xfinity race at Bristol decided the first lot of drivers who qualified for the Dash 4 Cash event. Race winner Noah Gragson and the next three guys i.e, Chase Briscoe, Brandon Jones, and rookie Harrison Burton will race in Atlanta.
The top four finishers from last night's race will be racing in the first leg of the Dash 4 Cash event in Atlanta. The first race will be held at the EchoPark 250 at Atlanta Motor Speedway on June 6 at 4:30 P.M EST.
The second race will be at Homestead-Miami on June 14 and the third race will be at Tallageda on June 20. The final race of the event will also run at Talladega but the date is still not confirmed.
ADVERTISEMENT
Article continues below this ad
The driver who wins the first event will automatically advance to the next Dash 4 Cash event. And the top three finishing Xfinity Series drivers will join him for the next Dash 4 Cash event at Homestead-Miami. Only full-time Xfinity drivers are eligible for competing in the event. And drivers running for NASCAR Cup Series points would not be eligible to compete in the Dash 4 Cash races.
The first of four Dash 4 Cash races will be held this Saturday at Atlanta Motor Speedway. The top finisher out of the four Dash 4 Cash contenders at each race will win a $100,000 reward. Additionally, NASCAR Xfinity will make donations in each Dash 4 Cash races. It will be part of their companywide commitment of 'connecting families, veterans and seniors to the digital tools necessary for navigating these challenging times'.
ADVERTISEMENT
Article continues below this ad
"I think it's really cool what NASCAR Xfinity does for the sport": Noah Gragson
Before the Bristol race, Noah Gragson said, "I really like the Dash 4 Cash program. I think it's really cool what Xfinity does for the sport."
He added, "In 2018 I ran three races for Joe Gibbs Racing. And I was part of three of those Dash 4 Cash races at Richmond, Talladega and Dover. It felt like a different energy, a different atmosphere. It's like everybody was racing that much harder. It was a lot of fun."
ADVERTISEMENT
Article continues below this ad
Joe Gibbs Racing's Brandon Jones said before the Bristol race, "The Dash for Cash is always fun. I've had limited opportunities to be a part of that. So I feel like my chances this year are super strong to get eligible for that."