Natalie Decker Pleases Fans with Huge 2021 NASCAR Xfinity Announcement
Published 02/06/2021, 7:45 AM EST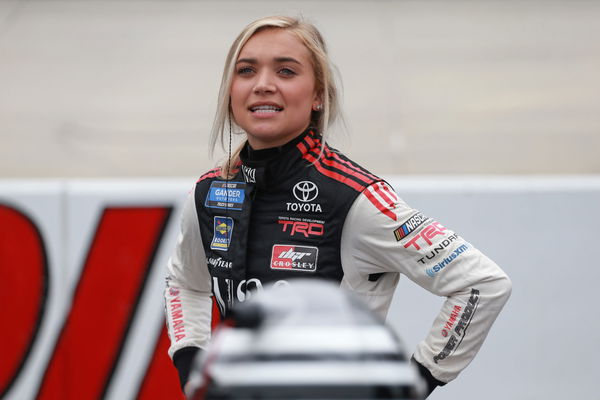 ---
---
A few days ago, Natalie Decker teased a return to the NASCAR scene. Now, she has officially confirmed that she will run in the NASCAR Xfinity Series with RSS Racing. As per her contract, the 23-year-old will compete in five Xfinity Series races this season in the #23 car.
It is also worth mentioning that Decker is splitting driving duties with Jason White and another driver. She will make her official debut on February 20 on the Daytona International Speedway road course. Meanwhile, White will start the RSS Racing season on February 13 at the season opener on the oval layout.
"This just means the world to me," Decker said. "This has been a secret for a while now and I'm so excited that Red Street Records is gonna be a part of these five races that I'm doing in Xfinity – which is so crazy to say, that I'm moving up a level and we're gonna be in the Xfinity Series."
Why did the team choose Natalie Decker?
According to Red Street Records founder, Jay DeMarcus, her personality impressed him. The Rascal Flatts vocalist admired her drive and determination and felt that she would be a great role model. He confessed that the decision was a 'no-brainer' and he wanted to help Decker achieve her dreams and goals.
Safe to say, Natalie Decker will be immensely determined in 2021. She endured a difficult 2020 Truck Series campaign in her 13 starts for Niece Motorsports; health issues plagued her season and even often forced her out of commission for a while.
Some of these included complications relating to a late 2019 gallbladder removal surgery. It led to a hospital stay and forced her to miss the Truck race at Pocono Raceway. She also missed out on a handful of races due to other complications, including lack of medical clearance, as well as issues involving a high heart rate and high blood pressure.
To cap it all off, she even tested positive for coronavirus. This forced her to miss a Trans-Am sports car doubleheader at Michelin Raceway Road Atlanta.
Now, to make up for a forgettable year, she is determined to have an interruption-free 2021 Xfinity season.