"Wouldn't Have Invested in Him If.." – Michael Jordan's Candid Revelation on Committing to $150 Million Investment Headed by Bubba Wallace in 2021
Published 11/11/2022, 11:30 AM EST

Follow Us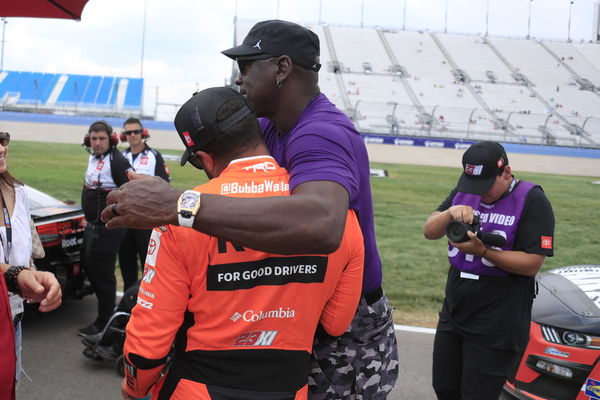 The 23XI Racing website opens up with a quote in a large font in the center. It says, "I am committed to winning. That's my competitive nature. That's always been who I am." The quote is from Michael Jordan, and it perfectly embodies the team ethos at 23XI, and also why the team went out on a limb to get a relatively raw talent, Bubba Wallace.
Jordan entered uncharted territory when, along with Denny Hamlin, he made the decision to invest $150 million. Their team, 23XI Racing, came into being in 2020, with its first race being the Daytona 500 in 2021. It took time for 23XI to get the ball rolling, but their first victory came in Talladega in October of 2021.
ADVERTISEMENT
Article continues below this ad
An old video from February 2021 shows why Jordan decided to get Bubba Wallace into his team. Jordan said, "I feel like he's going to learn how to win, he's got the talent. We would not have invested in him and picked him if he didn't have the talent to win. By the end of the year, I think he's gonna have an opportunity and probably will win at least a couple of races. If it's more, I'd be elated."
In hindsight, his prediction hasn't been too far off the mark. Wallace got 23XI its first victory at Talladega, and then another in 2022 at the Hollywood Casino 400 in Kansas (Kurt Busch won the AdventHealth 400 in Kansas in 2022 too).
With 3 wins in the 2 years of Cup Series racing, the team has performed decently. But Michael Jordan is known for being a serial winner and this couldn't possibly be enough for him. He will be targeting more wins in 2023, and Bubba will be raring to have a crack at it.
Bubba Wallace could cause problems for Denny Hamlin
Denny and Bubba have a peculiar relationship. On one end, Denny is the co-owner of the team that Bubba drives for – and by extension would want Bubba to win. But on the other end, Denny drives for Joe Gibbs Racing and technically is a rival of Bubba.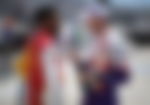 They've already had an incident where this rivalry came to a boil. Bubba was racing for RPM, and Denny for JGR when "And I know 2018 was your best finish here at Daytona, you [Bubba] came at second. You beat somebody off the third-place guy by 0.002 seconds, happened to be this guy right here [pointing to Denny Hamlin]. How about this year? If this is for the win, how's it going to play out?"
ADVERTISEMENT
Article continues below this ad
Denny said, "I wanna do something that no one ever has done. No one has ever won 3 in a row at this race track in the 500. I hope he's not in front of me. It might get physical."
For context, Denny had won the 2019 and 2020 Daytona 500 racing in JGR's Toyota. He was aiming to win for the third time on a trot in 2021, but unfortunately, he couldn't make that record. The 2021 Daytona 500 was clinched by Michael McDowell of Front Row Motorsports.
ADVERTISEMENT
Article continues below this ad
Watch This Story: Bubba Wallace Loses $1 Million For Assaulting Kyle Larson as Michael Jordan's Partner Condemns His "Values"
Regardless of the playful banter, 23XI is a tightly-knit team and at the same time, Hamlin and Bubba are great competitors and rivals. Hopefully for 23XI and Bubba, 2023 will usher in more wins.
Edited By: Jayant Chhabra