Dale Earnhardt Jr Avoided the Near-Fatal Mistake Made in Tua Tagovailoa's Horrific NFL Scandal
Published 10/04/2022, 4:24 AM EDT
By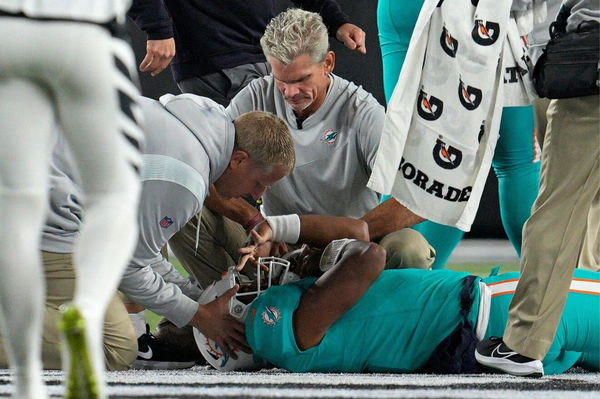 The American sporting world went into a tailspin after the horrific injury suffered by Miami Dolphins quarterback Tua Tagovailoa in the game against the Cincinnati Bengals. Player safety has been the focal point of not just the NFL this season, but also NASCAR, where veteran drivers like Denny Hamlin and Kevin Harvick have voiced concerns over the apathy of NASCAR over driver safety. Interestingly, a similar conversation could have been a talking point about a decade ago in an incident involving Dale Earnhardt Jr.
The episode in question is from the NASCAR Cup Series race at Talladega in 2012.
ADVERTISEMENT
Article continues below this ad
After a 25-car crash pile-up on the last lap of the race, Earnhardt was reportedly seen rubbing his head when talking to reporters in the garage. What happened next was completely unexpected – Earnhardt chose to sit out of the coming races even when he was in contention for the championship.
Dale Jr said, "I probably need to rest…allow my brain to take a break and get some healing done." Most drivers in a similar situation would not have taken such a step. When asked what he would have done in a similar state, 4-time Cup Series champion Jeff Gordon commented, "If I have a shot at the championship, I'm not going to say anything."
This decision to sit out of the race was not made in isolation; Dale Jr had earlier suffered a concussion in Kansas about which he kept quiet.
Dale Earnhardt Jr. says he didn't feel not quite right after Kansas wreck but he decided to push through and work through it. #nascar

— Bob Pockrass (@bobpockrass) October 11, 2012
Parallels between the Tua Tagovailoa and Dale Earnhardt Jr situations
ADVERTISEMENT
Article continues below this ad
The controversy surrounding the Tua incident stems majorly from the clearance granted to the quarterback to play against the Bengals after he was evaluated for a similar concussion during the game against the Buffalo Bills. While the NFL's chief medical officer talked about Tua being cleared by an independent neurologist to play the game this weekend, the NFL Players Association requested a review of the league's concussion protocol and the lapses in the evaluation processes.
CTE or Chronic traumatic encephalopathy caused by repeated concussions in combat and contact sports has always been a hot topic. The recent incident around the Dolphins' quarterback has really put the NFL's concussion protocols under the scanner.
ADVERTISEMENT
Article continues below this ad
NASCAR and the NFL are a part of pure American heritage. While the organizations cannot be blamed for wanting to expand their fan bases and introduce new measures to add to their coffers, it is imperative that they do enough to look after the most important stakeholders of them all – the players involved.