"Not Winning 60–70% Like Tom Brady"- Denny Hamlin Deciphers NASCAR's Mysterious Low Success Rate
Published 09/18/2023, 4:19 PM EDT

Follow Us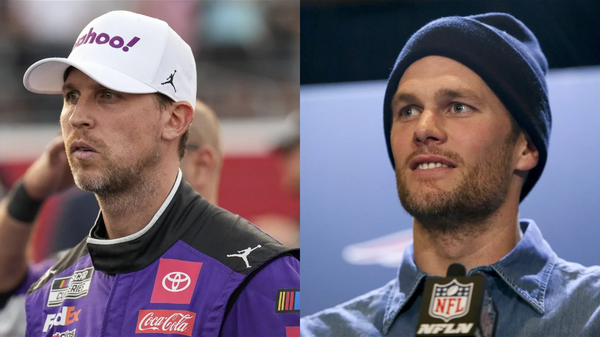 With the first-ever elimination race for the playoffs now in the rearview mirror, the NASCAR scene is revving up for the playoffs round of 12. The next destination? Texas Motor Speedway. This upcoming showdown promises to be an epic battle royale, as the 12 contenders prepare to duke it out on the oval in their quest to secure a spot in the Championship 4.
America's Favorite Video Today
Last weekend's Bristol race left fans with plenty to unpack. The drama was palpable, from the four unfortunate eliminates to Denny Hamlin's bold comments and the chorus of boos that echoed through the stands as he crossed the finish line. Caution flags flew left and right, and even rain made an unwanted appearance, adding to the chaos on the track. However, the talk of the town remains to be Hamlin, who clinched his 51st career win, much to the dismay of the crowd.
In the aftermath of Sunday's race, Hamlin made a special appearance on the seasoned NASCAR paddock figures Jeff Gluck and Jordan Bianchi's podcast, 'The Teardown.' During the podcast, Hamlin revealed insights and drew parallels on how the sport has evolved over the decades, shedding light on its dynamic changes.
ADVERTISEMENT
Article continues below this ad
NASCAR's unique competitive landscape in comparison to NFL & PGA
During the podcast, the JGR driver offered a candid look into the ever-changing landscape of NASCAR. Gluck began by expressing his admiration for Hamlin's  ability to move on quickly after tough losses, he posed the question, "I hear you say all the right things after some of these tough losses, but it would be really, really hard for me to be like, 'Man, Darlington, Kansas, like, we're gonna go get them this week.' Like, it just seems really hard to do that. You couldn't have done that early in your career, I assume, just to be able to move on that quickly."
Hamlin admitted that early in his career, this was indeed a challenge. He stressed the importance of finding happiness beyond the pursuit of victory, a lesson he had learned over the years. "Yeah, certainly not early in my career, for sure. You've got to find happiness in something other than winning because if you're in the Hall of Fame or you're winning like seven percent of the time in this sport."
Hamlin then drew parallels between NASCAR and other sports. He pointed out that unlike the NFL, where dominant athletes like Tom Brady can achieve 60-70% win rates, NASCAR operates on a vastly different playing field. It's a one-on-one competition each weekend, akin to the PGA Tour.
He said, "It's not like you're winning 60 or 70 percent like you are if you're Tom Brady. It's one versus one on any given weekend. Like, this is like PGA, right? Like, if you win six, seven percent, you're kicking ass. So it's just, you know, there are so many outside factors."
He went on to highlight the uniqueness of NASCAR's playoff format, where the margin for error is slim, and any driver can have a shot at the championship. He cited Martin Truex Jr's close call as an example of how unpredictable the format can be."Whether you win or not, this format is crazy. We nearly had Martin Truex barely surviving. So you just never know, and I'm very content with the effort that I'm putting in."
Champion-less Denny Hamlin believes he is better than existing champions
Hamlin's ability to bounce back after enduring the bitter taste of disappointment from previous races has become more evident. Similarly, his newfound confidence and self-assured demeanor have grown exponentially as his career has progressed. This transformation was notably highlighted when an unfazed Hamlin addressed a jeering crowd at Bristol, boldly stating, "I beat your favorite driver – all of them."
During the podcast, when queried about his current disposition, Hamlin openly acknowledged the profound satisfaction he presently experiences. For Hamlin and the Joe Gibbs crew, there are no stumbling blocks, no setbacks—only an unadulterated pursuit of excellence. "It's easy to feel this way when you're performing the way we are. I mean, honestly, there's just no—there's no glitches right now. There's no—we're just fast. We're, you know, we've been the car to beat the last three weeks in a row."
ADVERTISEMENT
Article continues below this ad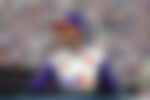 Providing feedback will help us make your experience better.
Enjoyed Your Read? Let us know how likely you are to recommend EssentiallySports to your friends!
Furthermore, Hamlin underscored their indisputable speed and dominance in recent weeks. While the trophy cabinet might not yet reflect their dominance, Hamlin is acutely aware of the message they are sending to their rivals. "The competition knows that. You probably have to go through the 11 if you want to win on any given week."
Nevertheless, despite his current self-assurance and success, Hamlin remains contemplative regarding his ultimate aspiration: clinching a championship. 
ADVERTISEMENT
Article continues below this ad
WATCH THIS STORY: Bubba Wallace Exposes Boss Denny Hamlin's Black Lie In Pocono Feud
As we approach the playoff round of 12, all eyes are on Hamlin to see if he can sustain his current performance throughout the season and potentially claim the title.
Edited By: Ranvijay Singh