NFL Player Quinn Nordin Compares NFL to NASCAR
Published 09/04/2021, 12:56 AM EDT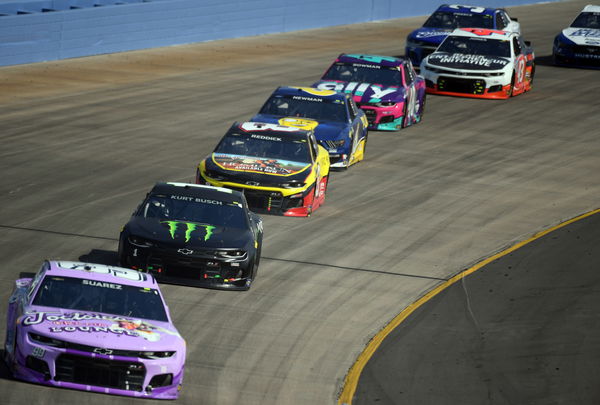 ---
---
In a recent interview, New England Patriots kicker Quinn Nordin spoke about the NFL. Interestingly, he even compared his job of being the placekicker to driving a NASCAR car. He explained that when he sets himself up for the kick, he leans a little and takes as much motion as possible.
ADVERTISEMENT
Article continues below this ad
"Throwing (a cornhole bag) is like the mechanics of kicking, being smooth, a repeatable motion at a small target. And then mentally, when you're driving around a NASCAR track you have to stay focused the whole time. There's a saying that if you put a robot in a car, it would be able to do the same thing around a track a million times in a row. But when you put a person in a car, sometimes it can't — one lap's faster, one lap's slower. So I guess to me, why is it when you make a machine kick a football it goes in every time? But when a person does it, there's errors and stuff like that?" said Quinn.
ADVERTISEMENT
Article continues below this ad
What lies ahead for NASCAR this season?
ADVERTISEMENT
Article continues below this ad
This weekend, the 2021 NASCAR Cup Series is expected to kick off its Playoff stage. 16 of the top drivers will battle it out over the next 10 races before a winner is eventually crowned. Admittedly, Hendrick Motorsports' Kyle Larson is regarded as one of the favorites to win. Alongside him is Ryan Blaney, who is in good form; especially after having won the last two races on the trot.
Aside from those two, there are plenty of other contenders, like Kyle Busch, Chase Elliott, Denny Hamlin, and more. Out of them, Hamlin will be desperate to finally notch up his first Cup Series win of the season. There are several other candidates for the title, but everything kicks off this weekend at the Darlington Raceway.
ADVERTISEMENT
Article continues below this ad