"Nobody Likes Us Anyway" – Who Said What on the Radio in the NASCAR Cup Series 2021 Richmond Race
Published 04/21/2021, 9:20 AM EDT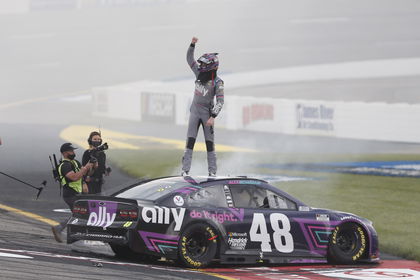 ---
---
The NASCAR Cup Series saw another exciting finish on another short track, at Richmond Raceway, in the season's ninth race. It is a tough track to really master and some of the best drivers were in serious competition on Sunday.
ADVERTISEMENT
Article continues below this ad
Reigning champion Chase Elliott and his Hendrick teammate Kyle Larson felt the early hiccups and were not happy with their cars, falling behind early in the race. "My drive off is really bad," Larson said over his radio.
While his Joe Gibbs Racing teammates, Denny Hamlin and Martin Truex Jr, started to dominate early, Kyle Busch was quite unhappy in the first stage itself and demanded his team to chip in. "No turn, no drive…I'll take any f**king suggestions I can get," Busch said over his team radio.
ADVERTISEMENT
Article continues below this ad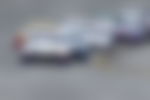 Meanwhile, Hamlin continued his mind-blowing start to the season and won the first stage at Richmond.
"I just love my job" – Kyle Busch
Early on in the second stage, Busch had some suggestions for his team."Free it up chassis-wise and give me some rear downforce. Haha. That's f**king what I need," Busch said. "I just…love my job," he added.
The first big spin of the race came when Austin Cindric and Ryan Newman made contact, sending Newman into the wall. Even Cindric suffered some damage after that wreck.
"How's my right front headlight look there? I know that killed our strategy here," Cindric said.
Most drivers then pitted for some fresh tires in the second stage, except Brad Keselowski. The team knew they would not bag the stage win eventually, but wanted some strength for the final stage.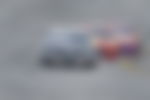 The move did not work out and Hamlin soon overtook Keselowski, who could not hang on to the lead lap. "I take the blame for that one. That's not how that was supposed to go," crew chief Jeremy Bullins admitted. Hamlin swept the second stage too.
"I'll pass them again" – Bowman's confidence shines in the NASCAR Cup Series race
Alex Bowman's confidence on the day was right up there. His was sent to the rear for an uncontrolled tire after the pit stop, but that did not hurt his morale one bit. "I'll pass them all again," he told his team.
He did as promised and kept getting better. "Second best car on the track right now. Let them know we're coming, Kevin (Hamlin)," Bowman's crew chief Greg Ives expressed.
"Yeah, you tell them, Kevin. Go yell at a bunch of spotters," Bowman joked. "Nobody likes me up here anyway, so it's fine," the spotter said. "Ha, nobody likes me down here," Bowman hit back.
As the finish line neared, Hamlin, Bowman, and Joey Logano raced well ahead of the others, forming a three-way battle for the win. Hamlin again looked like he would get it, but Bowman was on a mission.
"Get right up on his a** on the start and let's get to work," spotter Kevin Hamlin told Bowman. The no. 48 rushed ahead with just 10 laps to go and held on to win.
"Dammit, hate being that close"
Losing yet another race, Hamlin was quite frustrated after settling for 2nd place. Crew chief Chris Gabehart kept his spirits up and told him they will get the win soon.
"Dammit, hate being that close," said third-placed Logano.
Kevin Hamlin again joked with Bowman after his celebratory burnout. "That was a pretty weak burnout," he said. "Yeah yeah, get over it, nobody likes us anyway," Bowman chimed in. "Hahaha, drinking at your house tonight," Hamlin informed his driver.
ADVERTISEMENT
Article continues below this ad
An eighth different winner in nine races makes things very interesting going into Talladega, where we could see some really interesting and eventful moments.
ADVERTISEMENT
Article continues below this ad