"Not Going to Be as Chaotic"- Joey Logano Gives His Verdict as the NASCAR Bristol Dirt Race Approaches
Published 03/05/2021, 10:30 AM EST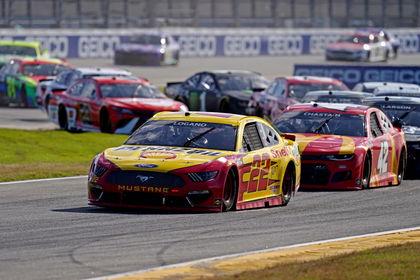 ---
---
As the NASCAR season enters the month of March, every race weekend brings the Bristol dirt weekend closer. The highly anticipated dirt race is scheduled for March 28th, and one of the top contenders, Joey Logano, recently gave his verdict on the same.
ADVERTISEMENT
Article continues below this ad
NASCAR released the schedule for the Bristol dirt week and Cup drivers will get the much-needed practice and qualifying on the dirt track before the race. Many fans, experts, and drivers themselves are worried about tackling the unknown challenge.
But Logano believes all the drivers will 'figure it out.' "You just have to go out there and figure it out. That's why we're race car drivers. You just go out there and do it," Logano said during an interview.
ADVERTISEMENT
Article continues below this ad
The Team Penske star gained that confidence after cruising through the COVID-19 pandemic-affected 2020 season. Despite the apprehensions around how drivers would deal with the multiple changes to NASCAR racing, things turned out just fine, believes Logano.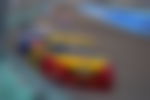 Joey Logano explains his learnings from the 2020 NASCAR season
"I've learned a lot here the last year, that we will make a bigger deal out of something than what it really is…Think about all the things we did last year when we first started COVID racing. There's so many things we hadn't done in a million years and we're fine," Logano said further.
He feels a similar thing will happen when the Cup Series field goes to the Bristol dirt track. While he does believe the race will pan out well, he certainly does feel it will be easy to race there.
"Same thing here. I feel like it's going to be okay…It's not going to be easy, don't get me wrong, but we're all going to figure it out. It's not going to be as chaotic as some may say," Logano continued.
"Survival will be everything"
The key, as per the no. 22 car driver, will be 'survival'. The drivers might have to navigate their way through a lot of cautions during the race, and experience could play a big role in the end.
"I think there will be a lot of cautions, I definitely think that. Survival will be everything. You might not even have to be good to get a good finish (laughs). You have to just survive, it's probably what it will come down to," Logano concluded on the subject.
ADVERTISEMENT
Article continues below this ad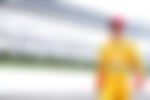 While many expect the likes of Kyle Larson and Christopher Bell to come out on top, driving these cars on the dirt track will be a different ball game.
Logano is a top competitor in almost every NASCAR Cup race, and he will certainly give it his best shot in Bristol, come March 28th.
ADVERTISEMENT
Article continues below this ad
MORE- WATCH: iRacing Offers First Look at the Bristol Dirt Track Ahead of NASCAR Races