"Not the Kind of Guy That's Picking Fights" – Chase Elliott Reveals What He Admires About Jimmie Johnson
Published 11/04/2020, 7:15 AM EST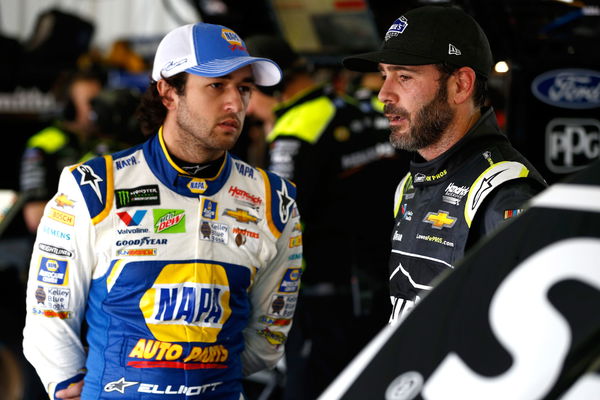 ---
---
As Jimmie Johnson bids adieu to the NASCAR circuit, many of his fellow drivers have some wonderful things to say about the NASCAR legend. His teammate Chase Elliott joined the chorus, giving a deep insight into his major observations from Johnson's illustrious NASCAR career.
ADVERTISEMENT
Article continues below this ad
Elliott was just 11 years old when Johnson won the first of his five consecutive NASCAR Cup Series titles. He remains the only man to do so. While he was awestruck as a kid to see Johnson win five straight titles, he understood how it felt to lose to him years later.
A 21-year-old Elliott was his top competitor when Johnson won his 7th and final title.
ADVERTISEMENT
Article continues below this ad
"The five-in-a-row thing was unbelievable. I watched it for sure and was around there when he won his seventh. I could imagine what it felt like to lose to him five times in a row as a competitor," Elliott said, during a media interaction.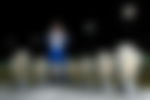 Chase Elliott reveals what makes Jimmie Johnson great
Elliott then highlighted what makes Johnson the champion he is on the racetrack. He feels it is no secret that Johnson is a very good person and is highly admired for that. However, Johnson's work ethic is what impressed Elliott the most.
"He just has everything prioritized the right way. I feel like his work ethic is extremely high," Elliott said further.
Elliott admitted that Johnson is competitive, but at the same time, is quite respectful of his opponents. He will not just pick a fight, Elliott expressed.
"He's a very competitive person, but he's competitive in his own way. He's not the kind of guy that's picking fights every week. He's just the kind of guy who wants to beat you," the driver of the No. 9 car said.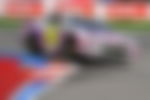 This is what makes Johnson an even greater champion. As per Elliott, at his peak, Johnson knew his team was better than most others. However, he never boasted about his success. His conduct on and off the racetrack is always impressive.
"Wasn't flaunting it all the time"
"I think that's why he's rubbed so many of his competitors bad over the years because he was just better than they were. They were better as a team but he wasn't flaunting it all the time. Or getting up in people's faces about it," Elliott expressed.
"He just kind of carried himself well. Competed at a very high level for a very long time."
Watching him from close quarters also gave Elliott a better look at Johnson. He lauded his leadership qualities and said he understands why Johnson is so successful.
ADVERTISEMENT
Article continues below this ad
Elliott will run the Phoenix race aiming for his maiden Cup Series title. His no. 9 Chevrolet and the cars of his fellow Hendrick teammates will feature a special addition to their paint schemes, as a tribute to Johnson.
ADVERTISEMENT
Article continues below this ad