"Nothing Saying We Can't Win Next 3 Races" – Denny Hamlin Feels 2021 NASCAR Win Is Not Far Away
Published 04/13/2021, 12:10 PM EDT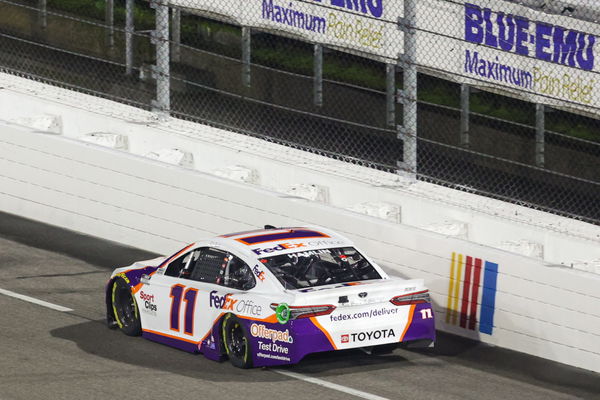 ---
---
Denny Hamlin has made a rather interesting start to the 2021 NASCAR season. Hamlin has as many as seven top-5 finishes in the first eight races. However, that wins column is still empty.
ADVERTISEMENT
Article continues below this ad
Despite such a strong start where Hamlin has already taken a big lead in the points standings, it can get frustrating for a driver to still not have a win, especially in a season that has already seen much more parity.
Hamlin believes it is important for him to focus on the fact that he is very close to that win. While he hasn't been able to quite close it out, Hamlin looks like he can win every week. If the Joe Gibbs Racing driver goes on to win the next three races, it shouldn't come as a surprise, he believes.
ADVERTISEMENT
Article continues below this ad
"Just keep building on that, look at the positives, try not to be negative. Wins, we're getting closer. We're getting there," Hamlin said in Sunday's post-race interaction at Martinsville.
"We just got to — nothing saying we can't win the next three races in a row," he expressed.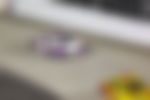 Denny Hamlin is focused on the process which is paying dividends
Any driver in Hamlin's position would have liked to already have those wins under his belt. Hamlin is also no different. While he recognizes that, Hamlin highlighted that there is not much keeping him away from Victory Lane.
"Yeah, I mean, we definitely would like to have more, for sure. But the way we're running, we can win any given week. We've just gotten beat by one or two cars each and every week that have just hit the setup a little bit better than we did," he said further.
While Hamlin has many points in the regular season, he only has three playoff points yet. That's what makes the win even more crucial and he would want to carry more points into the playoffs.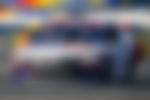 Hamlin can see that win coming
The no. 11 JGR driver certainly wants those points, but he is optimistic about getting there if he continues to do what he is doing and just takes that final step for the win.
"I don't know what the record is for most points scored in eight races, but I think we pretty much got to be there (laughter). We don't finish any worse than third in every stage, obviously, we're finishing in the top three or four every race," Hamlin expressed.
ADVERTISEMENT
Article continues below this ad
Hamlin's great start is even more impressive, given the fact that a lot of his attention is also dedicated to 23XI Racing. Hamlin is a big role to play in Bubba Wallace's development there.
While he continues to do that, Hamlin will hope that the elusive win comes at his home track – Richmond Raceway – this weekend.
ADVERTISEMENT
Article continues below this ad