"Pretty Good Product"- Kyle Larson Provides Positive Feedback After NASCAR Tests Rain Tires at Martinsville
Published 04/02/2021, 9:00 AM EDT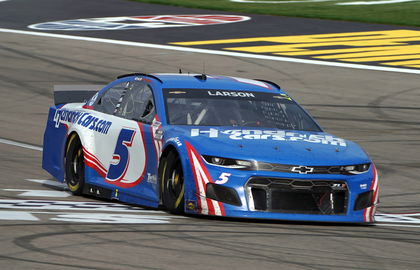 ---
---
Kyle Larson, along with fellow NASCAR Cup Series driver Chris Buescher, ran a tire test at Martinsville Speedway on Thursday. Not one of the regular tire tests, Thursday's test was to evaluate the feasibility of rain tires on the short track.
ADVERTISEMENT
Article continues below this ad
Larson ran on a dampened Martinsville track in chilly conditions. Rain delays have caused a big problem for NASCAR in recent years and the officials want to reduce the delay in getting things started in such conditions on race days.
To facilitate that, they came up with an improved product and hope the new rain tires can help the drivers navigate wet conditions better.
ADVERTISEMENT
Article continues below this ad
In a positive sign for NASCAR officials, Larson was quite satisfied with Thursday's run. He felt that with the rain tires, the car actually did not run a lot different than normal.
Kyle Larson is happy with the rain tires used in the Martinsville test
"That was fun. I don't really have much wet-weather experience, so it was kind of cool to figure that out," Larson said after his run. "Honestly didn't drive way different. You could still slow down good, turn good," he added.
Larson also offered his two cents on the challenge of driving in wet conditions on a short track like Martinsville.
"Drive-off was easy to spin your tires, but other than that, it was kind of fun to chase the grip throughout the portions where it would start drying," Larson continued.
All in all, the Hendrick Motorsports driver believes NASCAR has developed a good product that is already race-ready.
"So it was pretty fun and yeah, I think they've got a pretty good product that we could honestly start racing with right away if we needed to on these short tracks," he expressed.
Larson looks forward to Martinville Cup race
ADVERTISEMENT
Article continues below this ad
Thursday's test was also a good warm-up run for Larson as the Cup Series field races at Martinsville next weekend. "Good day of testing here at Martinsville. Ready to come back here next week and hopefully we have a fast car and we do a good job," he expressed.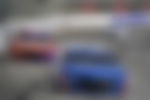 While the test was a success, NASCAR will work on the idea further. John Probst, NASCAR's Senior Vice President of Racing Innovation, said the test provided good feedback to their plans for implementing these rain tires in the future.
ADVERTISEMENT
Article continues below this ad