Reigning Cup Series Champion Kyle Busch Knocked Out of 2020 NASCAR Playoff Race Despite Tough Fight
Published 10/11/2020, 5:59 PM EDT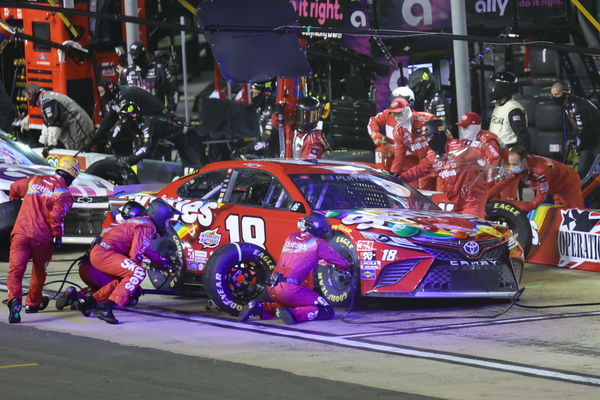 Kyle Busch became the first defending champion to be knocked out of before the Round of 8 of the NASCAR Cup Series playoffs. He finished way low in the order after running out of fuel at the end of a race at the Charlotte Roval that saw multiple shifts in momentum for the star driver.
ADVERTISEMENT
Article continues below this ad
He had a flat tire, made contact with another driver, then led the race, before eventually slipping down. He eventually finished in 30th place.
Busch was going strong just shortly before the end of Stage 2 and was running just outside the top-5.  Suddenly, he suffered a flat left front tire, which slowed him down.
ADVERTISEMENT
Article continues below this ad
A frustrated Busch sarcastically said to his team on the radio, "Good job this year, guys. Sorry, we had nothing of luck."
However, his Crew Chief asked Busch to keep going after they patched a hole in the nose. "I have no clue what's going to happen the rest of this race, so we need to be there at the end," Stevens advised Busch.
Eventful race for Kyle Busch
Busch was in the 11th spot at the end of the second stage and 56 points outside the cutoff spot. He needed nothing short of a miracle to turn things around in the final stage.
Late in the race, Busch made contact with Austin Dillon, sending Dillon into a spin and into the outside wall.
Busch fights hard to stay in contention
With just under 40 laps to go, Busch was showing the fighting qualities he is known for and was up to seventh. He came up to fifth place with just 30 laps to go, not long after he once again declared his own season done and dusted.
Later, with a few over 20 laps to go, Kyle Busch did not pit while most of the others did. Soon thereafter, he grabbed the lead out of nowhere.
ADVERTISEMENT
Article continues below this ad
Then, in another moment of a topsy-turvy race for the Joe Gibbs Racing No. 18 driver, he dropped back to fifth with around 15 laps to go. However, none of the other drivers in must-win situations, such as Clint Bowyer, Austin Dillon, and Aric Almirola, were in the top-15.
ADVERTISEMENT
Article continues below this ad
Busch slipped further down to 7th with just under 10 laps to go. With six laps to go, he even scrubbed the wall. Then, in a final hit to his chances, the reigning champ ran out of fuel and had to pit with three laps to go.
Busch tried hard, but his strategy to not pit towards the end did not quite work out for him. Busch's elimination means the NASCAR Cup Series will see a new champion this year.