REVEALED! Denny Hamlin to Run Special Paint Scheme Honoring Julius 'Slick' Johnson for NASCAR Darlington Throwback Race
Published 04/27/2021, 7:15 AM EDT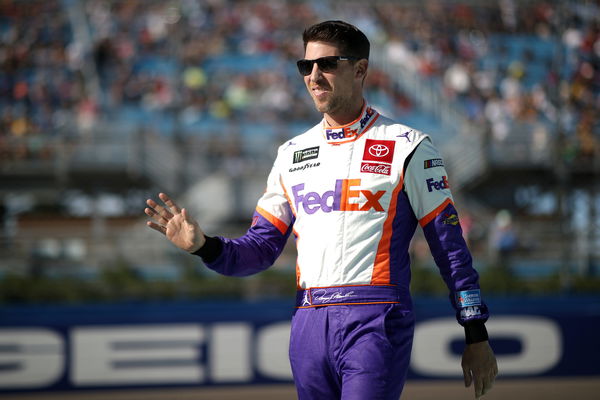 ---
---
Denny Hamlin and Joe Gibbs Racing have revealed the paint scheme for Hamlin's No. 11 car for upcoming the NASCAR Cup Series Darlington throwback weekend. After adopting a unique approach and letting fans select one of four options, JGR confirmed that Hamlin's scheme will honor former NASCAR driver Julius 'Slick' Johnson.
ADVERTISEMENT
Article continues below this ad
He competed in the NASCAR Cup Series (then known as NASCAR Winston Cup Series) during the 1980s. Slick, as he was famously known, was known as a veteran in short track racing in the Carolinas, before moving to NASCAR in 1979.
The South Carolina native was involved in a massive crash during a race at Daytona in 1990, which led to his death.
ADVERTISEMENT
Article continues below this ad
What will the No.11 car of Denny Hamlin look like at Darlington?
To honor Johnson's memory, Hamlin will run a red and white paint scheme, with sponsor Sport Clips Haircuts, similar to Johnson's No. 18 car from all those years ago.
"The red-and-white design honors the late Julius "Slick" Johnson, a South Carolina native that competed in the #NASCAR Cup series during the 1980s," Joe Gibbs Racing revealed.
Johnson raced in over 65 Cup Series races through the 1980s. His best finish was in eighth place on a couple of occasions. However, he also finished second in a NASCAR race at Daytona International Speedway, which was a non-points race.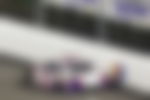 The Darlington throwback race is one of the most anticipated events on the NASCAR calendar every year. The likes of Chase Elliott, Alex Bowman, Kyle Busch, and Joey Logano, among others, have also announced their schemes.
Which are some of the other paint schemes for the NASCAR throwback weekend?
Elliott will pay tribute to former NASCAR Cup champion Alan Kulwicki, who shared a healthy rivalry with his father, Bill Elliott. Busch's paint scheme will celebrate his sponsor M&M's 80th anniversary.
Meanwhile, Logano will honor former F1 and NASCAR superstar Mario Andretti, who also won the Daytona 500. Bowman will run a scheme honoring his crew chief Greg Ives.
ADVERTISEMENT
Article continues below this ad
While 'Slick' Johnson wasn't one of the big names in NASCAR back in the day, it is good to see his memory being honored by JGR and Hamlin. Fans played a big part in selecting the scheme over three others. The other three schemes in contention were those of Buddy Baker, Ned Jarrett, and one of Hamlin's schemes.
ADVERTISEMENT
Article continues below this ad
Hamlin will hope to enter the Darlington race with a win in 2021, which he will aim to get at Kansas this weekend.