Ryan Blaney Called Out for "Bulls**tting," but Bubba Wallace's Right-Hand Man Withholds Judgement on "Hard-to-Tell" Comments
Published 03/18/2023, 11:56 AM EDT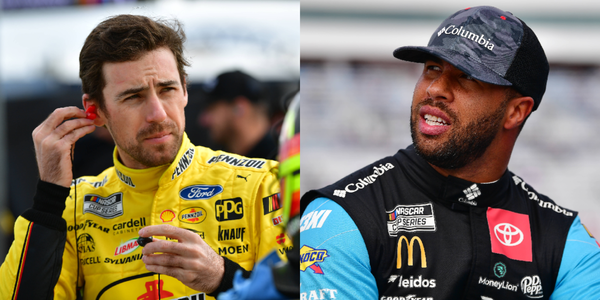 After the introduction of the new short-track package, the expectations were pretty high for the racing intensity to go up in Phoenix, but that didn't turn out to be the case. Still, if Ryan Blaney is to be believed, things could get better as he claimed in his post-race interview.
"It's hard to tell, I hope it's better, I really do. Hopefully, it'd be better at Martinsville, kind of a slower track, Richmond, I could see it maybe being a little better," Blaney said. "Time will tell, it's kinda hard to tell right now."
Ryan Blaney said it is hard to tell how the short track package will perform at other short tracks such as Richmond and Martinsville next month. pic.twitter.com/RkkRaefsA5

— Bob Pockrass (@bobpockrass) March 12, 2023
ADVERTISEMENT
Article continues below this ad
But when Blaney's comments were brought up in front of spotters Brett Griffin and Freddie Kraft, their interpretations were quite different as they read between the lines.
Bubba Wallace's spotter holding his judgment on the new short-track package
In a recent episode of the Door Bumper Clear podcast, Bubba Wallace's spotter Freddie Kraft claimed he doesn't want to judge the new short track package based on just one race, and that too on a track like Phoenix Raceway.
"I don't wanna judge this package based on a track that's never really had a good race at it or no matter what package we bring there, it's not a good race. We gotta see this somewhere else, whether it's Martinsville or Richmond, and to get a better feel," Kraft said.
The spotter pointed towards drivers being "free all day" during the race, how everyone was "kind of on edge and had to be guarded." 
"So it's hard to say they were so on edge that it made a huge difference, it is what it is for Phoenix and I'll be interested to see what happens in Richmond," he added.
WATCH THIS STORY | "You Gotta Give What You Get" – Denny Hamlin Reveals His Gripe With Travis Scott and Drake
Brett Griffin feels Ryan Blaney wasn't being honest in his comments
After Kraft reacted to Blaney's comments, it was Brett Griffin's turn to deliver his take on them. And based on what he said, NASCAR fans should feel at least some concern because if there's any truth to what he said, short-track racing experience for the fans could take a massive hit.
Griffin raised a question at first, "How many guys missed Turn 3 yesterday, like shoot up the hill?"
"None," came the reply from Freddie Kraft. "To me man, it tells me this car still ain't hard enough to drive," Griffin described.
ADVERTISEMENT
Article continues below this ad
"The fact that Ryan Blaney said it's hard to tell if this is going to be better scares me because he knows and if he had something positive to say about it, I feel like he would've said it," he continued. "Surely in his mind, he's able to predict what this is going to do at some of these other tracks, he's a fuc**ng professional Cup series driver, so if it's hard for him to tell, who the hell is gonna tell?"
Griffin added that in his opinion, Blaney wasn't being honest.
ADVERTISEMENT
Article continues below this ad
"I think he's bullsh***ing us, I think he knows, and he was scared to say," he claimed.
Edited By: Nischal Kandpal