Schedule, Drivers, Prize Money, and More: All You Should Know About Tony Stewart's Superstar Racing Experience
Published 04/15/2021, 11:57 AM EDT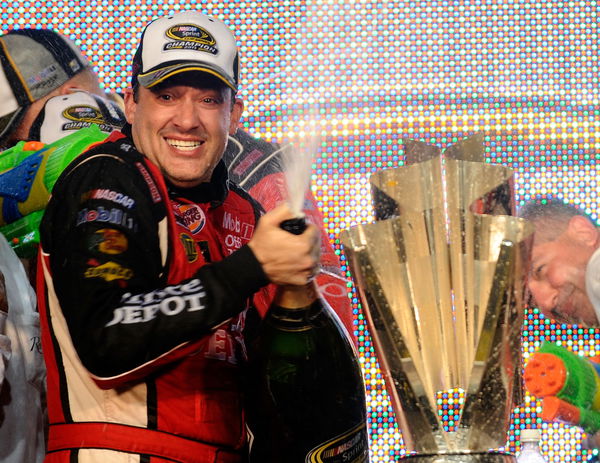 ---
---
Founded by Tony Stewart, Ray Evernham, Sandy Montag, and George Pyne, Superstar Racing Experience (SRX) is a forthcoming stock vehicle racing series. On July 13, 2020, Stewart gave a teaser of the series ahead of its 2021 launch.
ADVERTISEMENT
Article continues below this ad
While the TV rights are with CBS Sports, the new arrangement will make a big appearance on CBS Sports and Paramount+. On 15 April 2021, CBS uncovered the rundown of presenters of the race.
Allen Bestwick, a renowned sports presenter praised the new series. "Fun. What makes this series appealing is that it's going to be a lot of fun," Bestwick said.
ADVERTISEMENT
Article continues below this ad
"If you could take everything you learned about racing over 30 years and they hand you a clean sheet of paper and say, go ahead design something from scratch that you'll have a blast with on a Saturday night, that's what this is." 
Speaking about the series, Pam Miller, CBS Sports SRX Producer, "The exceptional broadcast crew we have put together is a great reflection of what SRX is all about, bringing together all-stars from a variety of racing backgrounds to create a made-for-TV racing experience," she said.
Additionally, she believes every driver will put forward something new in their teams.  "Each member of the team brings his or her own unique experience in the racing world with deep knowledge of the legacies involved and the entertainment value of racing."
Details of the 2021 Superstar Racing Experience
SRX will have races every Saturday night for six weeks, beginning from June 12, 2021. The time of the telecast is 8 PM ET.
In addition, the driver lineup is filled with experienced big names from the motorsports circuit. Drivers that will take part in the Racing Series include Tony Stewart, Paul Tracy, Bobby Labonte, Bill Elliott, Michael Waltrip, Marco Andretti among others. Above all, NASCAR racer Denny Hamlin offered to be the test driver for the series.
The series' founders are former NASCAR driver and current team owner Tony Stewart, former NASCAR team owner, and crew chief Ray Evernham. Former NASCAR executive George Pyne and sports agent Sandy Montag are also part of the ownership group.
ADVERTISEMENT
Article continues below this ad
While Fury Race Cars will manufacture the cars, the credits for design go to Ray Evernham. Also, it will be interesting to see a car that takes components from different stock vehicles run on street course tracks.
Tracks that will be used for racing are Stafford Motor Speedway, Lucas Oil Raceway, Nashville Fairgrounds Speedway among others.
ADVERTISEMENT
Article continues below this ad
The much-awaited series is expected to be a blockbuster because of the expected lineup and the design of the car. Fans have to wait for a while to see if the series can live up to its hype.
Trending Stories