SHOCKING: NASCAR Driver Retires Mid-Race Amid Health Reasons
Published 09/07/2021, 3:10 AM EDT

Follow Us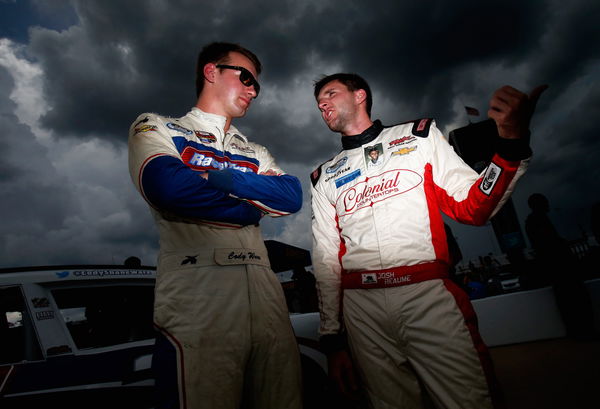 During the NASCAR Cup Series race at Darlington, things took a turn for the dangerous. As it turned out, Cody Ware was forced to retire from the race through no fault of his own. Reports emerged that the driver was suffering from carbon monoxide poisoning and was close to blacking out.
Obviously, this was hugely dangerous, so he bailed out as quickly as he could and headed to the medical center. Luckily, they cleared him and gave him a clean bill of health. Apparently, Ware and teammate James Davison collided, and the resulting crush panel damage lead to carbon monoxide poisoning.
Nasty bout of Carbon Monoxide poisoning, doing a lot better thanks to medical. Thanks to everyone who checked in on me. Time for some cookout and sleep…

— Cody Ware (@CodyShaneWare) September 6, 2021
ADVERTISEMENT
Article continues below this ad
It is also worth mentioning that this is not the first time Cody Ware suffered from this. Back in 2019, Ware was forced to retire after 64 laps during the Cup Series race at the Sonoma Raceway. Earlier that year in Dover, the same thing happened to Denny Hamlin. Once again, the culprit was a broken crush panel, and he got out as soon as he could.
Cody Ware was lucky to not have it affect his career
ADVERTISEMENT
Article continues below this ad
For obvious reasons, carbon monoxide poisoning is incredibly dangerous. In fact, it ended the career of Rick Mast in 2002. Apparently, Mast reported falling ill suddenly, losing weight, and had to miss races to undergo medical tests. Later on, doctors discovered evidence of carbon monoxide poisoning and he was forced to retire.
In the wake of this, he sought to prevent this from happening again, this time to another driver. Mast spoke to NASCAR president Mike Helton and suggested that teams redesign their cars' air intake systems. The idea over here is that less exhaust fumes will waft into drivers' helmets.
ADVERTISEMENT
Article continues below this ad
Unfortunately, it does not look like it may be enough, considering what has happened to Cody Ware on Sunday. Hopefully, he will not have to suffer through this again. Additionally, he will be hoping that this issue will not crop up with the Next Gen cars in 2022.