"Such a Coin Flip" – NASCAR Champ Chase Elliott Wary of Talladega but Knows What Needs to Be Done
Published 04/24/2021, 8:45 AM EDT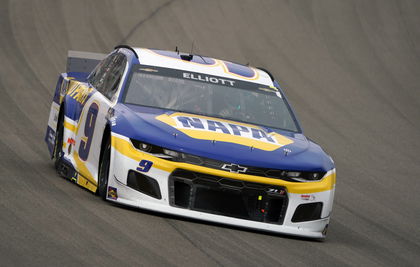 ---
---
One of the regular winners in the NASCAR Cup Series to have not won a race yet in 2021 is reigning champion Chase Elliott. That quest to win a race this season and secure a playoffs spot will not get any easier this Sunday, as Elliott and the field visit Talladega, where nothing is ever certain.
ADVERTISEMENT
Article continues below this ad
Elliott came close on a couple of occasions this season but could not close out the win. He realizes that Talladega, just like the Daytona International Speedway, can see the pace of the race change anytime.
"Superspeedway races and Talladega, just as much as Daytona is, it's such a coin-flip. There's just no way of knowing the right place to be at the right time," Elliott said ahead of the superspeedway race on Sunday – the GEICO 500.
ADVERTISEMENT
Article continues below this ad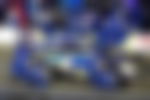 At the same time, Elliott has learned a lot over the years from watching some of his competitors as well as past drivers, getting to know what needs to be done to excel at Talladega. Just like many others, the race has been up-and-down for Elliott in his 10 Cup races there so far.
Chase Elliott emphasizes the keys to success at Talladega
The Hendrick Motorsports superstar has four top-fives at the track, but more importantly, one of those is a victory, back in 2019. Emphasizing how to run well at Talladega and have a chance there, Elliott feels it is all about being smart and using your experience to the right effect.
"There are guys that have a better feel for it than others and know when to be in certain positions and know when something doesn't feel right.
It's just about positioning yourself in the right place at the right time, having patience, and taking runs when you have the opportunity," Elliott expressed.
Talladega is prone to crashes and wrecks, and drivers running into each other. While drivers have the tendency to throw big blocks on each other at such tracks, what separates the great drivers from the good ones is having control, believes Elliott.
The importance of 'patience' at Talladega
He feels that having patience when needed most can make a massive difference between winning and losing in such situations.
"I think what makes the guys really good, great at those tracks, is they know when to quit putting up a fight. When not to throw a big block, knowing they might have an opportunity on the back end rather than crashing," Elliott continued.
ADVERTISEMENT
Article continues below this ad
"Showing patience in big moments at those tracks is really hard to do. But I think that's a piece that guys who win there do all the time," he concluded on the same.
Elliott will look to seal a second Talladega win come Sunday, starting in fifth place. It hasn't been one of his best tracks and he will some stiff competition, but the defending champ will be highly motivated, being the only Hendrick driver without a win in 2021.
ADVERTISEMENT
Article continues below this ad