"Super Neat" – John Hunter Nemechek After Defeating Kyle Busch Again as KBM Dominates NASCAR Richmond Race
Published 04/18/2021, 9:00 AM EDT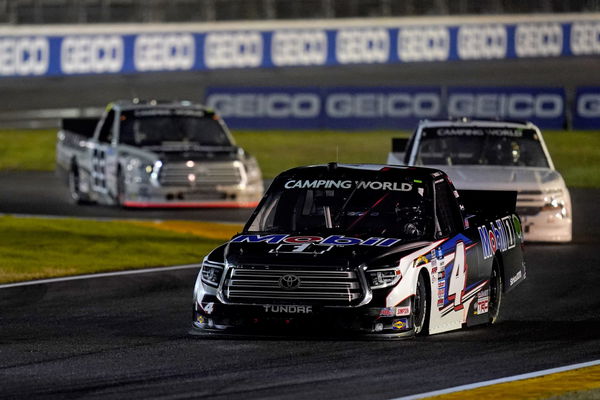 ---
---
John Hunter Nemechek resumed his on-track battle with team owner Kyle Busch and once again defeated Busch to win the NASCAR Truck Series race at Richmond on Saturday. The former held off the latter, who finished in 2nd place, as Busch's team won their fourth Truck race in a row.
ADVERTISEMENT
Article continues below this ad
KBM also got three spots in the top-four as Chandler Smith finished in fourth place. Nemechek's latest victory is also his first as a dad, just three weeks into fatherhood.
The 23-year-old made the call to move to the Truck Series from the elite Cup Series, and the move is paying rich dividends so far. Nemechek was thrilled to bag his second win and said it is always quite difficult to beat Busch in his own equipment.
ADVERTISEMENT
Article continues below this ad
John Hunter Nemechek outdoes Kyle Busch again in NASCAR Truck Series
"It's super neat to be able to come here and do what we did…We are seeing progress as a whole in the KBM organization. Hopefully, we can get Chandler back in the mix and get rid of some of his bad luck," Nemechek said in a media interaction after his win.
"It's neat to be able to come out here and beat Kyle, especially in his own equipment," he added.
Nemechek showered more praise on Busch, who will race for his seventh Cup win at Richmond on Sunday. "Kyle is one of the best race car drivers there is in the sport right now. He will continue to be, he works really hard at it," Nemechek expressed.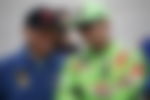 Despite finishing second, Busch is super thrilled about his team's winning streak in the Truck Series. He even joked with Nemechek, before the season started, about sharing Truck wins week after week.
Busch wants the streak to keep going
"It's awesome. I joked with John Hunter at the beginning of the year that if you win one and then I win one and you win one and then I win one – it would be pretty good to go back and forth," Busch said about that.
On those lines, Busch will look to get a win for himself in the next race. "I didn't think he was serious, but so far that's kind of the way it's going so I guess I get Kansas (win)," he added.
ADVERTISEMENT
Article continues below this ad
Richmond is also one of the most successful tracks in Kyle Busch's NASCAR career. That makes Nemechek's win even more special.
Busch and Nemechek will compete again, on May 1, at Kansas Speedway. The iconic driver and team owner will hope KBM bags a fifth straight win.
ADVERTISEMENT
Article continues below this ad