Superstar Racing Experience by Tony Stewart Reveals Another Major Track on its Schedule
Published 12/10/2020, 7:45 AM EST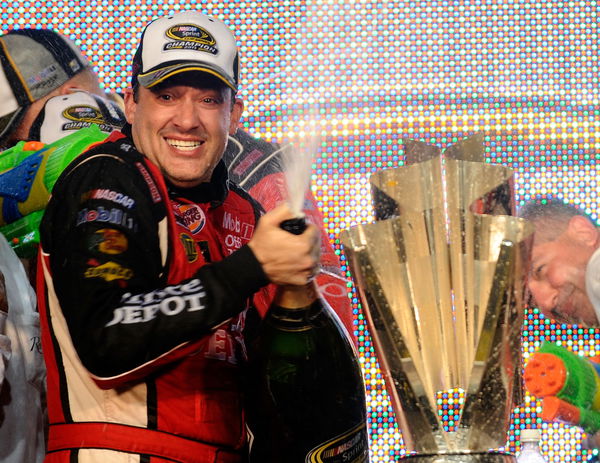 The Superstar Racing Experience series is steadily picking up steam. Ever since Tony Stewart unveiled the series in mid-July, the hype has steadily been building. Now, the latest news has confirmed that the SRX series has added the Lucas Oil Raceway to the calendar. The other track on the calendar is the Tony Stewart-owned Eldora Speedway.
It is worth noting that the raceway is located near Indianapolis and will be the second track in the six-race schedule. Furthermore, the series is inspired by the International Race of Champions (IROC) series. The IROC series pitted drivers from different racing disciplines in equal machinery. It lasted for at least 30 years before it sadly went out of business.
What else is the event started by Tony Stewart offering?
ADVERTISEMENT
Article continues below this ad
So far, the Superstar Racing Experience has confirmed at least nine of the 12 drivers on the grid. The latest recruit is Ernie Francis Jr, who joins Stewart, Helio Castroneves, Bobby Labonte, Paul Tracy, and Tony Kanaan. Other additions include Willy T. Ribbs, ex-F1 driver Mark Webber and NASCAR legend, Bill Elliott.
Most of the NASCAR recruits are familiar with the Lucas Oil Raceway. This is because it has hosted NASCAR, ARCA, and USAC races. Additionally, Labonte raced there in the NASCAR Xfinity Series from 1990 to 92. He also won the race there during his '91 championship season, so he could be one of the favorites.
ADVERTISEMENT
Article continues below this ad
Admittedly, the race dates have yet to be revealed, but it is understood that it will kick off in the summer. Furthermore, co-founder Ray Evernham is designing and preparing the race car for the inaugural season. Other proposed venues include the Stafford Motor Speedway, Five Flags Speedway, New Smyrna Speedway, and Knoxville Raceway.
Of course, nothing is set in stone, but Evernham is interested in including a road course. With regard to the duration, each race lasts around 90 minutes without pit stops. However, there will be a 'halftime' for teams to make adjustments.
ADVERTISEMENT
Article continues below this ad
All in all, this is a hugely ambitious and exciting project. Both Tony Stewart and Ray Evernham are excited for the season to kick off. The Superstar Racing Experience has been their brainchild, and they are keen to see it hit the ground running.