Taking a Look at the Most Viewed NASCAR Based Videos in 2020
Published 12/30/2020, 1:05 PM EST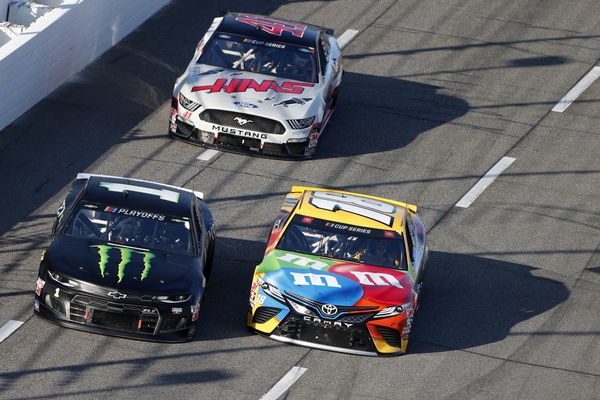 ---
---
YouTube videos have now become commonplace in sports, capturing highlights and notable incidents. NASCAR over the years has had a variety of compilation of videos on different topics as well.
ADVERTISEMENT
Article continues below this ad
Here are the Top-5 most viewed NASCAR videos in the year 2020.
1) NASCAR's best repair jobs
ADVERTISEMENT
Article continues below this ad
This video on YouTube showcases pit crews working on a variety of NASCAR drivers' cars. In one instance, Martin Truex Jr's No.78 Camry received some special treatment on the left front tire with a unique piece of machinery.
In another instance, in that compilation, certain pit crew members used a collection of hammers to fix the boot of a car. As they like to say, necessity is the mother of invention, and these crew members' quick thinking repaired and helped their drivers' cars!
2) Ryan Newman's 2020 Daytona 500 crash
In what was a shocking sequence of events, the Roush Fenway Racing driver went from winning the Daytona 500 to crashing out of it. In the last stretch of the race, Blaney's attempt to cut inside and pass Newman did not work.
Ultimately, Newman's car collided into the sidewall and, due to the sheer force of impact, went hurtling across the track. Thankfully, his condition improved after a few days, and he even returned to racing in a few weeks' time after the incident.
3) Cheating incidents in the history of NASCAR
A montage brought to us by the channel 'FivePoints Vids' briefly talked about the various reported incidents of cheating in NASCAR history.
The video talked about the likes of David Pearson, Richard Petty, and even the infamous Logano- Gilliland controversy from 2013.
4) Intentional crashes in NASCAR
Drivers in NASCAR sometimes have an aggressive mentality and a retaliatory intention. This video contains a collection of such incidents that left the sport's fans reeling in shock and disbelief.
One of the incidents in here is the time Kyle Busch slammed into Ray Hornaday Jr during a Trucks Series race in Texas. The JGR driver wrecked Hornaday Jr whilst under a caution on Lap 14 and NASCAR later fined Busch $50,000 for the incident.
ADVERTISEMENT
Article continues below this ad
5) NASCAR's greatest airborne crashes
Cars flying due to the collision impact of a crash is not a sight that anyone wants to see. But mistakes, intentional or unintentional, are a part of motorsports at the end of the day.
ADVERTISEMENT
Article continues below this ad
The video highlights the enormous 2011 crash at the Dover International Speedway, where Joey Logano suffered a loose tire. Ultimately, because of that, he rocketed into Bowyer's No.33, which in turn saw the likes of Steve Wallace and Brad Keselowski collected in the crash as well.
Overall, there may be many more videos that we may have missed out on which became quite popular in the course of this year. Let us know your suggestions in the comments below!