"That Was Amazing" – Joey Logano on NASCAR Truck Series Racing on Bristol Dirt as Martin Truex Jr. Wins Stage
Published 03/29/2021, 1:34 PM EDT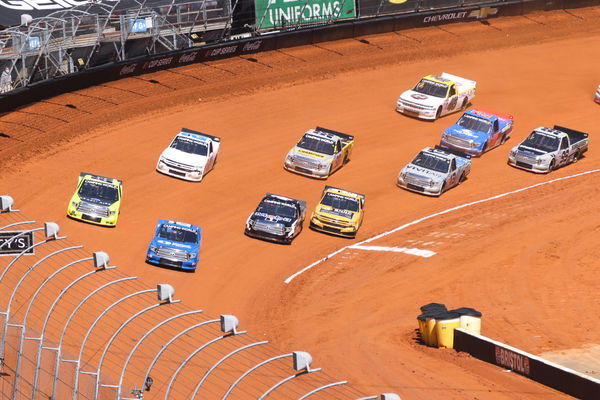 ---
---
The NASCAR weekend on the Bristol Motor Speedway's dirt track finally got underway. After two rain delays pushed the Truck Series race to Monday, some good weather finally allowed the NASCAR Truck drivers and some of the Cup drivers participating in the Truck race, to get some racing action.
ADVERTISEMENT
Article continues below this ad
One of those Cup drivers is Martin Truex Jr. The Joe Gibbs Racing driver took to the dirt track in the no. 51 truck and looked good very quickly. The former Truck Series driver was impressive in the opening stage, which saw a couple of cautions as expected.
Just towards the end of the stage, a big wreck between Tyler Ankrum and Chandler Smith brought out the caution. A one-lap dash to the finish line would decide the stage, leading to an exciting end to Stage 1.
ADVERTISEMENT
Article continues below this ad
Martin Truex Jr. impressive in the opening stage of the Bristol Truck race
Truex Jr. and Sheldon Creed, in the no.2 truck, fought hard for the lead in that one lap. Some exciting racing saw Truex Jr. narrowly edge Creed to win the first NASCAR stage on a dirt track in a long time.
Truex's Cup Series competitor Joey Logano, in the commentary booth for the race, was quite impressed with what he saw in the opening stage. "What just happened?! … That was amazing," Logano said in commentary.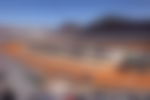 Eventful start to the NASCAR Truck Series dirt race
Creed and Truex even made contact during that final lap. However, both drivers impressively hung on to see off the stage, as Truex's experience came in very handy. Logano, on the other hand, got a good idea of the track from close quarters, before his Cup race later in the day.
Later in the race, the in-form John Hunter Nemechek was also involved in a big wreck which ended his day early.
ADVERTISEMENT
Article continues below this ad
Meanwhile, Kevin Harvick, Kyle Larson, and Bubba Wallace were also part of the Truck race to prepare for the Cup race. The NASCAR Cup Series is set to hold a dirt race for the first time in 51 years.
ADVERTISEMENT
Article continues below this ad
All eyes will be on Larson and Christopher Bell for that race. Their dirt racing background makes them favorites and they both already have a Cup win each this year.