"That Was Awesome" – Ryan Blaney Reacts After Stunning Win Over Kyle Larson in NASCAR Cup Race at Atlanta
Published 03/21/2021, 7:47 PM EDT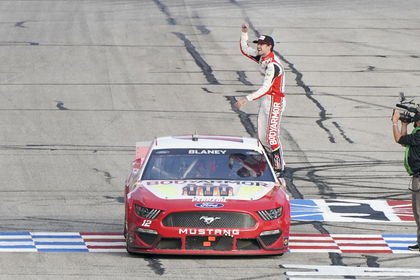 ---
---
In a dramatic finish to the NASCAR Cup Series race at Atlanta Motor Speedway, Ryan Blaney snatched the lead from Kyle Larson with just eight laps to go and won the race. Larson was cruising towards victory, but Blaney ensured the 2021 season saw a sixth different winner in as many races.
ADVERTISEMENT
Article continues below this ad
The stunning results continue this season and another driver has booked his place in the Cup Series playoffs. Larson almost completely dominated the race, leading over 200 laps on the day, and it looked like a no-contest at one stage.
However, Blaney ensured he never gave up and made use of his solid speed in the No. 12 car to keep up with Larson. As the final stage progressed, Blaney kept improving and eventually took the lead, after which it was too late for Larson to get it back.
ADVERTISEMENT
Article continues below this ad
Ryan Blaney points out the key factor in his NASCAR win at Atlanta
Blaney gave his thoughts on the tight finish, suggesting that Larson was getting loose towards the end. At the same time, he was very happy with how his car performed on the long runs, which eventually proved to be the difference.
"We had a great long run car all day. It took a little bit to get going. I was pretty free all-day, we made a really good change to tighten me up where I needed it," Blaney said right after his win.
"It looked like Kyle was getting loose. I'm happy it worked in our favor that there were a couple of long runs at the end, that let us kind of get there," he added.
Blaney then thanked his team for their efforts. He acknowledged that the Team Penske No. 12 unit has had some misfortune this season, but it was great to close it out in Atlanta.
"We've been good this year and had some bad breaks and it's nice to close out a race like that. That was awesome," Blaney expressed.
Kyle Larson praises Blaney for the challenge
Meanwhile, Larson also admitted that Blaney significantly improved in the final stage, which affected his own flow and momentum at the end. However, there are a lot of positives once again for Larson and the No. 5 team, after another brilliant run.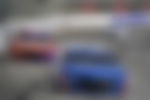 "He just got a lot better there in the last stage and it kind of changed up my flow of the race a little bit.
ADVERTISEMENT
Article continues below this ad
"Hate to lead a lot of laps and lose, but a really good car we brought to the track. The Hendrick cars Chevy was super fast there for a long time," Larson said after the race.
Blaney's win was his fifth career Cup victory. Interestingly, all his Cup wins have come after he took the lead within the final 10 laps of the race.
ADVERTISEMENT
Article continues below this ad