Throwback: Kyle Larson Sweeped the Floor in the NASCAR All-Star Race 2019
Published 07/15/2020, 12:44 PM EDT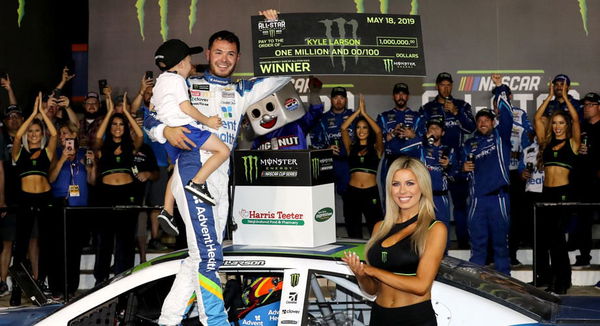 ---
---
As the NASCAR All-Star race approaches, let's glance back at last year's All-Star race. Last year, Kyle Larson took everyone by surprise and won the NASCAR All-Star race after qualifying in the dying hours by winning the 'Monster Energy Open'.
ADVERTISEMENT
Article continues below this ad
This was one of the most dominating performances by the former Chip Ganassi driver. After failing to qualify for the All-Star race he competed in the All-Star Open to take the last few spots on the grid.
He managed to win the final stage to grab the last qualifying seat from the Open race.
ADVERTISEMENT
Article continues below this ad
Kyle Larson won the NASCAR All-Star race by a margin of 0.322 seconds
Larson took the hard-earned victory by a margin of just 0.322 seconds. He managed to fend off Kevin Harvick till the time he crossed the final line and won the $1 million prize.
After the race, he said to the media, "This is unbelievable. This whole day was up and down. From the Open, we were getting a little bit of damage, having to repair the car.
ADVERTISEMENT
Article continues below this ad
"Had some great restarts there the last few, and Harvick gave me a heck of a push to get to the lead from the third row, and that was huge."
After that, he talked about his race. He said, "Then again to get by the 18 (Busch) that final restart, just had to guess kind of what he was going to do behind me and try and take his air away. The 18 surprised me how good he was."
Finally, he expressed his happiness with the win he had been craving for so long, "But, man, this is amazing. I've been close a couple of times. I feel like every time I've been in the All-Star Race I've been close to winning, so it's neat to finally close it out.
ADVERTISEMENT
Article continues below this ad
"There's a lot of people from the shop here today, so we get to do some celebrating. I'm excited about that."