THROWBACK: Ryan Blaney Recounts the Time Tyler Reddick Slowed Down in the 2020 Cup Series Race at Homestead-Miami
Published 12/24/2020, 11:03 AM EST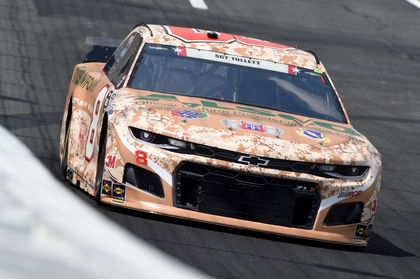 ---
---
The 2020 Cup Series campaign certainly was a rollercoaster for NASCAR drivers, teams and of course, the fans. One crazy moment, courtesy of Tyler Reddick, is something Ryan Blaney remembers quite well.
ADVERTISEMENT
Article continues below this ad
Earlier in the season, the Dixie Vodka 400 took place at the Homestead-Miami Speedway. Denny Hamlin was comfortably on course for the win, with both Chase Elliott and Blaney in second and third, respectively.
Reddick, however, seemingly not spotting the white flag, slowed down after the penultimate lap of the race. He got into a position of total chaos, with his fourth-place finish at complete risk!
ADVERTISEMENT
Article continues below this ad
Ryan Blaney was equally confused at the sequence of events in the race
Speaking to the podcast 'Glass Case of Emotion,' Blaney stated, "Me, him and Chase were like right on top of each other in the last three laps. And I was looking at my mirror and I looked back on the backstretch and he was gone.
"I was like, 'what happened to him?'. His spotter and crew chief were like 'what are you doing!'"
Reddick's pace had dropped down from within 1.97 seconds of leader Hamlin, to over 4.3 seconds. Elliott, who was in third, took over from Blaney, and it also left the latter wondering where Reddick was.
Blaney continued and said, "He's trying to thank everybody, 'thanks guys it's a great job'. And it's like, 'what the hell are you doing, go'!"
Tyler Reddick managed to hold on to fourth place despite the moment of confusion
The RCR driver had fortunately built up a commanding time gap lead over the incoming Almirola. Considering Reddick had greater pace in the race, the Stewart-Haas driver was nearly eight seconds behind him on the track.
ADVERTISEMENT
Article continues below this ad
Reddick certainly should have been more mindful of the white flag that was flashed across to all drivers. He could very easily have lost places if the considerable time gap did not exist.
Regardless, as a result of Reddick's good work in the majority of the race, the blip did not end up costing him points. However, he will most certainly look back on this moment as a learning lesson, considering he pursues the dream of becoming an accomplished Cup Series driver.
ADVERTISEMENT
Article continues below this ad
MORE- NASCAR Driver Tyler Reddick Almost Ends Race a Lap too Early