THROWBACK: When Tyler Reddick Celebrated Too Early and Almost Lost a Place at Homestead-Miami
Published 02/25/2021, 12:05 PM EST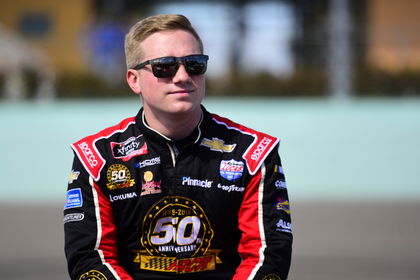 ---
---
In sport, one of the worst things that players can do is perform a premature celebration. Unfortunately, poor old Tyler Reddick found that out the hard way during the 2020 Dixie Vodka 400 Cup race at Homestead-Miami.
ADVERTISEMENT
Article continues below this ad
The driver was running in 4th place and battling for P3 when he crossed the line to start the final lap. His spotter told him, "White flag here. If we can get him, great! If not, still a hell of a night. Keep it clean".
However, Reddick took it as a sign that the race was over, so he decided to take his foot off the gas, forcing his Crew Chief to frantically yell at him to keep going, because the race was not over yet.
ADVERTISEMENT
Article continues below this ad
The bad news was that Reddick still had not got the message and was thanking the team for his race. Finally, his exasperated crew chief yelled, "Goooooooo! It's the last lap, dog!".
Luckily, Tyler Reddick was able to snap out of it and maintain his position on the track. From there, the driver went on to finish in a fine 4th place.
Tyler Reddick will be hoping to avoid such an embarrassing gaffe
ADVERTISEMENT
Article continues below this ad
Of course, Reddick must have been quite mortified that he nearly lost out on a good position due to his own fault. It only goes to show that drivers need to be aware of their surroundings and pay attention.
Even though the team told him that it was the last lap, he still had the impression that it was over. Lots of races have been won and lost due to a lapse in concentration and judgment.
Without a doubt, Tyler Reddick will be careful about the lap-time counter and his team radio. Truthfully speaking, he was supremely lucky that he did not lose any positions when he backed off. Now, the driver will be looking forward to this weekend's race at Homestead and redemption.
ADVERTISEMENT
Article continues below this ad
MORE- WATCH: Chase Elliott Makes 'Epic Save' While Tyler Reddick's Car Catches Fire in NASCAR Race at Daytona